Cyberworld 3D
2000, NR, 48 min. Directed by Elaine Despins, Colin Davies. Starring Dave Foley, Robert Smith, Matt Frewer, Jenna Elfman.
Images seem to pop out of the giant screen in this 3D Imax extravaganza, and if the Polarized glasses they give you to watch the movie aren't positioned properly on your face it's possible your eyeballs might just try to pop out of your head, too. There's no denying the magnificence of this movie's optical effect; the 3D immersion in the huge screen's images provides the same kind of fun as riding a top amusement park's best ride. The movie, however, is a gallery showcase rather than a narrative film or documentary. CyberWorld 3D is a collection of animated vignettes solicited from some of the world's top animators, which were then given the 3D technology treatment and packaged in this new film. Wraparound segments with a hostess voiced by Jenna Elfman and three bugs were specially created for the film and link the disparate clips. Mostly, CyberWorld 3D exists as a state-of-the-art display of the potential for 3D animation. Included are the dance sequence from Antz, portions of the "Homer3" episode of The Simpsons, and scenes from a host of other more abstract or purely imagistic animated works. As a sensory bombardment CyberWorld 3D is breathtaking, just don't expect the movie to have any dimensional aspirations beyond that.
A note to readers: Bold and uncensored, The Austin Chronicle has been Austin's independent news source for almost 40 years, expressing the community's political and environmental concerns and supporting its active cultural scene. Now more than ever, we need your support to continue supplying Austin with independent, free press. If real news is important to you, please consider making a donation of $5, $10 or whatever you can afford, to help keep our journalism on stands.
READ MORE
More Dave Foley Films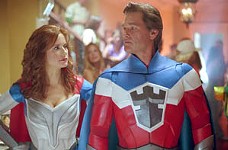 An adolescent superhero can't find his niche.
Marc Savlov, July 29, 2005
Apparently looking to extend his 15 minutes, 'N Sync crooner Lance Bass stars in his feature-film debut as Kevin, a Windy City ad exec who ...
Kimberley Jones, Oct. 26, 2001
More by Marjorie Baumgarten
Story of America's itinerant population wanders too much
Feb. 19, 2021
Poetic insight into autism, based on Naoki Higashida memoir
Jan. 8, 2021
KEYWORDS FOR THIS FILM
Cyberworld 3D, Elaine Despins, Colin Davies, Dave Foley, Robert Smith, Matt Frewer, Jenna Elfman
MORE IN THE ARCHIVES