Bandits
2001, PG-13, 123 min. Directed by Barry Levinson. Starring Bruce Willis, Billy Bob Thornton, Cate Blanchett, Troy Garity, January Jones, Rocky Larochelle, Jaye K. Danford.
There's much to like about Bandits, Barry Levinson's new film about a romantic triangle that blossoms among a pair of gentlemen bank robbers and a suburban housewife who has grown dissatisfied with her chilly husband and the mundanities of life. The robbers, dubbed "the Sleepover Bandits" by the media for their penchant for arriving at bank managers' homes the night before the robbery in order to finesse their way into their target banks in the early morning hours, are played by Willis and Thornton, and they're both good in the roles (they act more like bickering siblings than actual cons), but the real laughs end up going to Troy Garity, who plays the duo's dim-witted wheelman Harley. Garity played Tom Hayden in the recent Abbie Hoffman biopic Steal This Movie! and I remember he grabbed my attention there, too. In Bandits, he speaks his lines with the slow and slobbery conviction and eager single-mindedness of a Saint Bernard. When we first encounter him, he's talking to himself, apparently playing cops and robbers on top of a barn roof, from which he hurls himself with goofy peace of mind, landing a second later in the middle of a giant airbag below. More than anything he wants to be a Hollywood stuntman, you see, and, well, practice makes perfect. As sexy tough guy Joe, Willis lets slip his slow-motion smile, heavy-lidded "What, Me Worry?" gaze, and a general air of rebel detachment. Thornton's gangly Terry is the brains to Joe's brawn, a hypersensitive, hypochondriacal worrier prone to panic attacks. The blonde who seals their fate, Blanchett's Kate, is a wealth of tics and disappointments; endearingly, when we first set eyes on her she's choppin' broccoli in her kitchen, prepping a massive meal for her spouse while singing the abrasively godawful "Holding Out for a Hero" at the top of her lungs. Subtle it's not, but Blanchett is such a force of nature here that it's great fun to watch her get her giddy groove on. Eventually, the trio meet -- collide, really -- and Blanchett dumps her dreary housewife existence in favor of hanging out with these far more colorful scoundrels. Hilarity and heartbreak ensue. Levinson is parsing familiar material here, so much so that its not going too far to say this is a "reimagining" of George Roy Hill's iconic Butch Cassidy and the Sundance Kid. Willis and Thornton are immensely enjoyable, but Paul Newman and Robert Redford they're not, and the film's tone falls somewhere short of revelatory. The script, by Harley Peyton (of Twin Peaks fame) breaks up the narrative drive with sequences of the semi-dynamic duo being interviewed by an America's Most Wanted-type program, and the whole film is presented as a series of flashbacks -- Joe and Terry, we're told in the first few minutes, are dead, having gone out in a blaze of glory sometime before. This doesn't work very well, and makes for some overly predictable moments (quite a lot, in fact). Neither as thrilling as it could have been, nor as funny, Bandits is instead genial and inoffensive emotional slapstick. Dramedy-lite, with bullets.
A note to readers: Bold and uncensored, The Austin Chronicle has been Austin's independent news source for almost 40 years, expressing the community's political and environmental concerns and supporting its active cultural scene. Now more than ever, we need your support to continue supplying Austin with independent, free press. If real news is important to you, please consider making a donation of $5, $10 or whatever you can afford, to help keep our journalism on stands.
READ MORE
More Barry Levinson Films
Bill Murray is a music promoter who finds his next client in Afghanistan
Marc Savlov, Oct. 23, 2015
Robert De Niro stars in this Barry Levinson comedy as a Hollywood movie producer beset with problems ranging from two ex-wives and unhinged actors and directors to perpetual worry.
Josh Rosenblatt, Oct. 31, 2008
More by Marc Savlov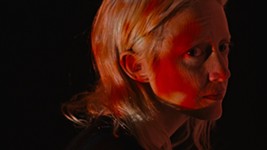 Identity melts in this psychotropic assassination brainblender
Oct. 2, 2020
Mangled Italian creature feature should be even shorter
Sept. 25, 2020
KEYWORDS FOR THIS FILM
Bandits, Barry Levinson, Bruce Willis, Billy Bob Thornton, Cate Blanchett, Troy Garity, January Jones, Rocky Larochelle, Jaye K. Danford
MORE IN THE ARCHIVES