Pootie Tang
2001, PG-13, 72 min. Directed by Louis C.K.. Starring Chris Rock, Lance Crouther, Wanda Sykes, Robert Vaughn, David Cross, Conan O'Brien, Andy Richter, Mario Joyner, Jennifer Coolidge.
Although the title sounds like a vulgar astronaut joke ("There once was a spaceman from Venus …"), this inexplicable foray into the comic vacuum of a denuded Chris Rock is actually derived from one of the comedian's minor Chris Rock Show skits, which features a Shaft-like superhero who speaks in an incomprehensible patois. Pootie Tang is his name, or perhaps just some muttered gutter oath, and as portrayed here by Crouther (from Rock's CB4 and Rusty Cundieff's Fear of a Black Hat, both of which seem downright arty when compared to Pootie), is a flash-dressing ghetto superstar, part James Bond, part Superfly, and general upstanding citizen. The bare-chested and gold-necklace-bedecked Pootie is out to rid the world of evil mega-corporation LecterCorp, led by a one-joke Vaughn as Dick Lecter, which controls the all-important fast food, cigarette, and malt liquor markets. Pootie comes to Lecter's attention when a series of television public service announcements advising viewers to refrain from such things as smoking and drinking begin to cut into LecterCorp's profit margins. Pootie is also up against local drug dealer Dirty D. (Cathey), a filthy ghetto caricature apparently based on Peanuts' dusty Pig Pen. Lecter sends Jennifer Coolidge to seduce and drug poor Pootie, after which puppetmaster Lecter changes Pootie's tune and enlists the brainwashed funkmaster for his nefarious schemes. Rock appears in three roles -- none of them all that funny -- the worst of which is as Pootie's father, who is reincarnated as a giant, talking ear of corn. I don't even know what to say about that. There are a handful of tiny laughs sprinkled throughout the film -- one bit, in which genius recording artist Pootie releases a "Silent Song" (literally) that has all the world (not) singing along is funny for a moment, but the main gag -- endlessly repeated -- is the bizarre stream of gibberish that flows in torrents from Pootie's mouth. What to make of all this? Judging from the raft of cameos throughout, the production smacks of vanity project. Director C.K., who originated the character while working as a writer on HBO's The Chris Rock Show (he's also a sometime gagman for Conan O'Brien), has roped in a half-dozen of his pals, from O'Brien and former sidekick Richter to Bob Costas and acerbic freakoid Dave Attell, but none of them can add any zing to this barely tolerable offal. Pootie Tang continues the not-so-grand tradition of current and former Saturday Night Live cast members inflicting on the moviegoing public feature-length versions of skits that could only work in a 10-minute format. It's Pat!, A Night at the Roxbury, and The Ladies' Man have all set an annoying precedent in this unwanted chain of crap, and Pootie continues in that mediocre vein. I suppose it's a blessing of some sort that the film runs a brief, barely feature-length 72 minutes, though after you get past the initial goofy charm of Pootie's nonsense-speak, it's a very long 72 minutes and a very dubious blessing. Both Rock and C.K. are phenomenally talented comics when they want to be; why on earth Paramount Pictures let everyone settle for this dull and unfunny claptrap is one of the great mysteries of the universe, along with what, exactly, our hero is saying. "Sipi-tai!" indeed.
A note to readers: Bold and uncensored, The Austin Chronicle has been Austin's independent news source for almost 40 years, expressing the community's political and environmental concerns and supporting its active cultural scene. Now more than ever, we need your support to continue supplying Austin with independent, free press. If real news is important to you, please consider making a donation of $5, $10 or whatever you can afford, to help keep our journalism on stands.
READ MORE
More Louis C.K. Films
Oct. 25, 2020
More by Marc Savlov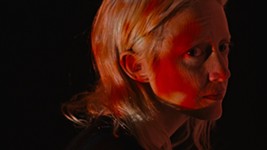 Identity melts in this psychotropic assassination brainblender
Oct. 2, 2020
Mangled Italian creature feature should be even shorter
Sept. 25, 2020
KEYWORDS FOR THIS FILM
Pootie Tang, Louis C.K., Chris Rock, Lance Crouther, Wanda Sykes, Robert Vaughn, David Cross, Conan O'Brien, Andy Richter, Mario Joyner, Jennifer Coolidge
MORE IN THE ARCHIVES