Wes Craven Presents: Dracula
2000, R, 127 min. Directed by Patrick Lussier. Starring Gerard Butler, Jonny Lee Miller, Justine Waddell, Christopher Plummer, Omar Epps, Colleen Fitzpatrick, Jennifer Esposito, Jeri Ryan.
"I don't drink - coffee," says Butler's sleek, telegenic nosferatu, droll little bloodsucker that he is, and right then you almost fall for him, hook, line, and crucifix. But, alas, like Vlad's unquenchable love for the good girls, it is not to be. It is a measure of the continuing popularity of the vampire genre that this year alone has seen three such releases (Shadow of the Vampire and The Little Vampire being the two others -- taken together these three films pretty much cover every imaginable base). Lussier's film, from a script by Joel Soisson (Highlander: Endgame), has Plummer as hoary old Abraham Van Helsing, still in Carfax Abbey, caretaking the undead corpse of Vlad the Impaler. Van Helsing, it seems, has won the battle but lost the war: For the life of him, he can't find a way to kill his arch-nemesis. As king of the vampires and "patient zero" in the vampire mythos, Dracula himself appears to be unkillable. The caretaking duties of Van Helsing and confidant Simon (Miller, sporting a vaguely Eastenders accent) run aground one night when a band of thieves break in and -- for want of anything else to abscond with -- steal Dracula's coffin. The casket, however, proves to be more difficult to open than first thought, which affords us the opportunity to move the action from London to New Orleans as the thieves, led by Omar Epps, encounter vampiric turbulence mid-flight and crash land in the bayou. Van Helsing and Simon follow in hot pursuit, as you'd expect, while Dracula heads to the French Quarter, as you'd also expect. It's not Poppy Z. Brite he's looking for, however, but Van Helsing's estranged daughter Mary (Waddell) who, because of a very long backstory involving leeches that I won't go into here, has a psychic link with the prince of darkness. Lussier's film is a near-miss as far as genre classics go. There are enough good intentions and writing here to merit more than a curt dismissal of the proceedings, but much of the inherent charm is lost amongst the undead-thieves subplot and the fact that nobody can seem to kill anyone -- even Dracula himself -- without dropping a leaden wisecrack into the mix. This isn't a Schwarzenegger film, after all, so when Miller dispatches a host of the undead with a (very nifty) silver-arrow-firing crossbow, his quip that follows only grates. The fact that this sort of thing seems to happen every 10 minutes or so is altogether too much. Soisson's script finally reveals why the Count is so anti-Christian and hates that silver, which frankly comes as a bit of a shock, but a nice one. (Without giving away too much, the film's Christmas opening is clever timing.) Much about Dracula 2000 is clever, in fact: The heroine Mary works at -- ah-ha! -- Virgin Megastore; Van Helsing's weaponry is straight out of Rube Goldberg's Arsenal of Wonder; and Jeri Ryan, as one of the Count's brides, is toothy good fun. As for Dracula, Butler plays him straight down the middle, forsaking Frank Langella's goofy sexual charm for a more subtle approach. He's like Christopher Lee for the MTV set, though with much less panache and minus the accent, and for much of the film he looks astonishingly like British fantasist Neil Gaiman as he strides about looking dark and suave. Despite the clever twists Soisson's script provides, the film is all but unfrightening, with only a handful of genuine shocks in store (if that). Not the worst Romanian count we've seen, but certainly not the best, Dracula 2000 is a middling film through and through, despite the occasional shocks it tries too earnestly to achieve.
A note to readers: Bold and uncensored, The Austin Chronicle has been Austin's independent news source for almost 40 years, expressing the community's political and environmental concerns and supporting its active cultural scene. Now more than ever, we need your support to continue supplying Austin with independent, free press. If real news is important to you, please consider making a donation of $5, $10 or whatever you can afford, to help keep our journalism on stands.
READ MORE
More Patrick Lussier Films
Nicolas Cage plays a parent on a mission to avenge the murder of his daughter and granddaughter.
Marc Savlov, March 4, 2011
This horror film is a full-on, old-school, gore-hound heaven – a supersaturated arterial goregasm with zero socially redeeming values for anyone other than first-year med students.
Marc Savlov, Jan. 23, 2009
More by Marc Savlov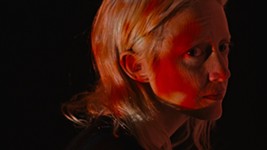 Identity melts in this psychotropic assassination brainblender
Oct. 2, 2020
Mangled Italian creature feature should be even shorter
Sept. 25, 2020
KEYWORDS FOR THIS FILM
Wes Craven Presents: Dracula, Patrick Lussier, Gerard Butler, Jonny Lee Miller, Justine Waddell, Christopher Plummer, Omar Epps, Colleen Fitzpatrick, Jennifer Esposito, Jeri Ryan
MORE IN THE ARCHIVES