Bounce
2000, PG-13, 102 min. Directed by Don Roos. Starring Ben Affleck, Gwyneth Paltrow, Johnny Galecki, David Paymer, Joe Morton, Tony Goldwyn, Jennifer Grey, Natasha Henstridge, Alex D. Linz, Dan Bucatinsky.
A bounce is a crash that doesn't end. This pearl of post-traumatic stress wisdom is issued by Abby (Paltrow), a fluttery Los Angeles real estate agent who has lost her husband Greg (Goldwyn) in a plane crash. The statement is directed at her tentative new beau Buddy (Affleck), a recovering alcoholic/cad who, unknown to Abby, gave his own airline ticket to Greg on that fateful night in order to pursue an airport motel quickie. A cocky ad exec, the post-crash Buddy stews in guilt and booze for a time, implodes at the Clio Awards, and rehabs his way back to a marginal form of sanity. It's here that he tracks down Abby, ostensibly to check up on her and her two young boys. Not surprisingly, the two begin a hesitant survivors pas de deux, she keeping the brave widow's façade from slipping too much, he debating the moral implications of not telling her straight off of his brief, fateful involvement in her husband's final hours. Bounce has a lot going for it, not the least of which is the onscreen pairing of real-life former flames Paltrow and Affleck, who doubtless are mining some of their own tension while playing their roles. Or not: Despite the growing feelings both Abby and Buddy are experiencing, there's a peculiar lack of romantic spark in the film. Scenes of Buddy bonding with Abby's kids (Linz, Bucatinsky) carry a real emotional heft. By contrast, the scenes of Buddy and Abby together are far less resonant. These people are so hesitant about the next step that they've quashed the flame entirely. Rarely before has cuddling looked so dull -- which is surprising, considering director Don Roos' track record. His 1998 paean to bad attitudes, The Opposite of Sex, was a deliciously nasty piece of work that nonetheless had a romantic's hopeful core. As a screenwriter, Roos has penned Single White Female and the terrific Love Field, both of which were tough little stories with well-drawn characters. Compared to them, Bounce feels oddly unfinished, though whether this was intentional, perhaps to show the characters' wounded, tentative psyches, is murky. Maybe Roos just couldn't get the first half of the film to jell with his third-act resolution, in which Buddy, whose ad agency has been representing the downed airline in their damage-control attempts, is subpoenaed by the courts to testify in the legal proceedings against the airline. A smooth obscurer of the truth by his very nature, the question that hangs in the balance is "will he or won't he?" Actually, the query that sprang to my mind concerned the odd arrival of this final denouement and its jarringly out-of-place feel. Michael Crichton had nothing to do with the film, yet this late-breaking deus ex machina smacks of courtroom-drama hooey and almost capsizes the entire film. That said, there's still more than a few smart moves in Roos' film. Galecki, late of both Roseanne and The Opposite of Sex, has a nicely wonky role as Buddy's gay secretary, and Goldwyn's small-but-pivotal role as the doomed Greg is an understated little gem; in the few minutes of screen time you actually comprehend more about him than most of the major characters combined. Roos' film is a misfire, but only just. It's the opposite of The Opposite of Sex, a meditation on multiple truths, and the lies that sometimes lie in between.
A note to readers: Bold and uncensored, The Austin Chronicle has been Austin's independent news source for almost 40 years, expressing the community's political and environmental concerns and supporting its active cultural scene. Now more than ever, we need your support to continue supplying Austin with independent, free press. If real news is important to you, please consider making a donation of $5, $10 or whatever you can afford, to help keep our journalism on stands.
READ MORE
More Don Roos Films
Movie about master manipulators and the people who love them is rife with surprises.
Kimberley Jones, July 29, 2005
More by Marc Savlov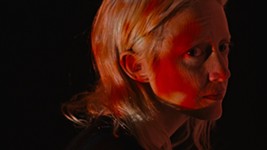 Identity melts in this psychotropic assassination brainblender
Oct. 2, 2020
Mangled Italian creature feature should be even shorter
Sept. 25, 2020
KEYWORDS FOR THIS FILM
Bounce, Don Roos, Ben Affleck, Gwyneth Paltrow, Johnny Galecki, David Paymer, Joe Morton, Tony Goldwyn, Jennifer Grey, Natasha Henstridge, Alex D. Linz, Dan Bucatinsky
MORE IN THE ARCHIVES