Dark Days
2000, NR, 84 min. Directed by Marc Singer.
It's easy to see why Dark Days picked up not one, not two, but three major awards at Sundance 2000 (as well as an honorable mention at SXSW 2000) -- it's the kind of compelling, relentless cinema vérité documentary that defines the genre. Singer's film follows a group of homeless men and women who eke out an utterly marginalized existence living in the benighted Amtrak tunnels beneath New York City. Scrounging bits of plywood, tarp, and pilfered electricity from Con Ed, they reside in ramshackle lean-tos -- hovels, really -- in near-darkness a scant 50 feet from the onrushing trains that cut a strobing swath through their encampment at all hours of the day and night. They're underworld denizens who at first seem akin to some bad Fifties sci-fi flick: Invasion of the Mole Men, redux. Singer, who first heard of this atypical micro-society on television and then decided to explore the tunnels for himself, eventually joined the homeless and spent two full years beneath the streets of Manhattan. That experience helps him humanize the unknown, although it's not purely a fly-on-the-wall experience he's created -- at times you can hear his questions in the background. However, the documentary process never feels forced or manhandled into shape. Interviewing Dee, the crack addict (crack is the true scourge here, with most, if not all, of the film's subjects having been evicted from their former lives via its smoky haze) who lost her two young children to a fire while she was in lockup, Singer captures the pure, heart-wrenching face of despair. Dee breaks down and weeps, alone in the dark with nothing but Singer and his camera. It's an awful scene, terrible in its dark beauty, and there are others like it. As much as the story of this disenfranchised, forgotten tribe is at the heart of the film, the backstory is nearly as powerful. After moving out of his apartment and into the tunnels to live fulltime, Singer not only began filming his subjects but also enlisted their aid in the creation of the documentary. Eventually, they assisted in the construction of dollies while also serving as a full crew. Not exactly what Robert Rodriguez had in mind when he penned Rebel Without a Crew, but close enough for rock & roll, I think. Singer has also enlisted the talents of NYC music icon DJ Shadow, whose spare, muted electronica and turntable scratchings give the film an even grimmer feel than it might otherwise have had. Certainly, I can't think of any "mainstream" composer who could have paired with Singer's thematics as well. At its heart, Dark Days is a story of survival. The film could have stood a bit more information on what the people "upstairs" felt about the crisis beneath their feet. When Amtrak and the NYPD, eventually, make their presence felt, the solution is predictably draconian. What Singer discovers about the marginalization of society's castaways is nothing we haven't heard - or at the very least intuited - before, but the film's humanistic take is undeniably powerful and moving. These are not mole-men, these are people who once had lives like everyone else. In the cold, in the dark, it's all too easy to forget that. Singer makes sure that we don't. (See interview with Marc Singer in this week's Screens section.)
A note to readers: Bold and uncensored, The Austin Chronicle has been Austin's independent news source for almost 40 years, expressing the community's political and environmental concerns and supporting its active cultural scene. Now more than ever, we need your support to continue supplying Austin with independent, free press. If real news is important to you, please consider making a donation of $5, $10 or whatever you can afford, to help keep our journalism on stands.
READ MORE
More Films
Charming animated adventure has a kid-friendly look at loss, with adorable space sidekicks!
Richard Whittaker, Oct. 16, 2020
Eric Roberts saves souls, unlikely as that sounds
Oct. 16, 2020
More by Marc Savlov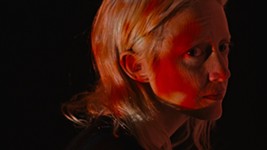 Identity melts in this psychotropic assassination brainblender
Oct. 2, 2020
Mangled Italian creature feature should be even shorter
Sept. 25, 2020
KEYWORDS FOR THIS FILM
MORE IN THE ARCHIVES