The Straight Story
1999, G, 111 min. Directed by David Lynch. Starring Harry Dean Stanton, John Lordan, Jennifer Edwards-Hughes, Everett Mcgill, Jane Heitz, John Farley, Sissy Spacek, Richard Farnsworth.
The Straight Story is a piece of American poetry, an elegiac ode to a 73-year-old man's defiant act of raging against the dying of the light. Its simplicity belies an emotional complexity that will linger in your mind like a gentle dream.
A pastoral road movie set in the heartland, The Straight Story recounts the true-life journey of Alvin Straight, a retired widower living in a small town in Iowa, who travels 370 some-odd miles to the secluded woods of Wisconsin to see his estranged younger brother, Lyle, who has recently suffered a stroke. His means of transportation is rather unconventional: a 1966 John Deere riding lawnmower, outfitted with a homemade trailer stocked with folding chairs, a blanket, and an ice chest of meat by-products. As his pilgrimage slowly progresses over the course of six weeks, mundane images of turning wheels and yellow lines are juxtaposed with spectacular panoramas of burnished cornfields and verdant pastures. (Freddie Francis' cinematography is nothing short of spectacular.) The trip is, not surprisingly, a difficult one for Alvin, both physically and emotionally. His eyesight is failing; his buckling hips require the use of two canes; and the Swisher Sweets he favors are poisoning his lungs. Although determined to make the journey in his chosen way, to the point of intractable stubbornness -- he's like the resolute turtle crossing the highway at the beginning of The Grapes of Wrath -- Alvin's reticence grows as he nears his destination. It's not just the anticipation of seeing a sibling to whom he hasn't spoken in 10 years, or the fear that his brother is already dead, or even the anxiety over whether they will make their peace. It's just as much the question of what will come after this leg of life's journey is accomplished. It is difficult -- no, it is impossible -- to imagine anyone other than Farnsworth in the role of Alvin. (He came out of retirement to make this film.) The lines and wrinkles on Farnsworth's face are a road map of experience; the measured tones in his voice testify to the wisdom of someone who has lived a lifetime.
Alvin's encounters with those he meets on the road -- a pregnant runaway, a hysterical woman who's hit a deer with her car, a fellow War World II veteran -- all serve a clear narrative purpose, whether it be to underscore the importance of family or to provide a catharsis to a tragic event that happened half a century ago. That's the pleasure of John Roach and Mary Sweeney's delicately crafted script: It constantly reveals random, unassuming events as something much more than what they initially appear to be. Most memorable case in point: As Alvin matter-of-factly explains the purpose of his trip to two bickering brothers, you slowly realize that's he's not talking about himself, but rather, he's talking to them, imparting the advice of a man who regrets the way he has treated his own brother.
Those familiar with director Lynch's oeuvre will perceive the G-rated The Straight Story as a radical departure for a filmmaker who, in such films as Blue Velvet and the television series Twin Peaks, picks up pretty-but-bland rocks to expose the unspeakable vermin crawling underneath. This near-obsession with unearthing the dark side of human existence has often bordered upon the clichéd and, in the case of such later films as Wild at Heart and Lost Highway, became boorish and unfathomable. With The Straight Story, Lynch may appear to play it straight, but what he's really done is lift the rock to discover something else. Alvin Straight is a symbol of things past, a testament to the endurance of the common man, but he's also an oddball in an American Gothic landscape. When you think about it, is it any weirder to find a severed ear in a weeded lot, or to dream of dancing dwarves, than it is to see a septuagenarian driving a riding lawnmower along the side of the road in the middle of nowhere? To quote the wide-eyed Jeffrey in Blue Velvet, it's a strange world, isn't it? With The Straight Story, Lynch hasn't veered too far from home; what's different here is the wondrous thing he brings to light. In its own way, The Straight Story may be Lynch's most perverse film yet.
A note to readers: Bold and uncensored, The Austin Chronicle has been Austin's independent news source for over 40 years, expressing the community's political and environmental concerns and supporting its active cultural scene. Now more than ever, we need your support to continue supplying Austin with independent, free press. If real news is important to you, please consider making a donation of $5, $10 or whatever you can afford, to help keep our journalism on stands.
READ MORE
More David Lynch Films
Not reviewed at press time. David Lynch's latest mindfuck pits Nikki Grace (Laura Dern) and Devon Berk (Justin Theroux) against the characters they're playing in a cursed fictional film.
Darcie Stevens, Jan. 26, 2007
Marjorie Baumgarten, Nov. 16, 2001
More by Steve Davis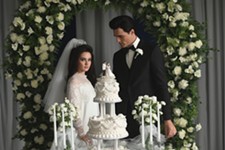 Measured journey behind closed doors of rock & roll's most famous marriage
Nov. 3, 2023
Ryan and Duchovny ponder the road not taken in magical rom-com
Nov. 3, 2023
KEYWORDS FOR THIS FILM
The Straight Story, David Lynch, Harry Dean Stanton, John Lordan, Jennifer Edwards-Hughes, Everett Mcgill, Jane Heitz, John Farley, Sissy Spacek, Richard Farnsworth
MORE IN THE ARCHIVES