Cookie's Fortune
1999, PG-13, 118 min. Directed by Robert Altman. Starring Glenn Close, Charles S. Dutton, Patricia Neal, Liv Tyler, Julianne Moore, Ned Beatty, Chris O'Donnell, Donald Moffat, Courtney B. Vance, Lyle Lovett, Ruby Wilson.
Robert Altman's jaundiced eye absolutely twinkles in Cookie's Fortune. This honeysuckle-flavored comedy set in Holly Springs, Mississippi is as sweet and refreshing as anything he's ever done. The focal point in Anne Rapp's engaging screenplay is the suicide of an aging matriarch and the confusion that ensues when her death is made to look like a murder. During its slightly off-kilter course, Cookie's Fortune wryly comments on the dynamics of life in a small town, where everything is everybody's business and a man's guilt is a matter of whether you've fished with him. Altman's direction is fittingly as light as the movie; he really seems to be enjoying himself here. His detractors have often accused him of condescendingly portraying individuals -- face it, Nashville didn't endear him to country-western music -- but he embraces the eccentricities of the less-than-cosmopolitan characters in Cookie's Fortune without judgment. People in Holly Springs just do things that come naturally to them, regardless of whether those things make much sense to anyone else. That's why the titular character Cookie kills herself without any warning, and why the immediate reaction of her uptight niece to this tragedy is to eat the suicide note. As in any Altman movie, the cast has a ball. (Lily Tomlin reportedly once told Carol Burnett to take the role of the bride's mother in Altman's 1978 film, A Wedding, even if it meant only carrying a spear.) The actors here are careful to avoid caricature; contrary to thespic tradition, even their Dixie accents are subtle. O'Donnell's clumsy rookie cop provides the film's funniest moments -- his swagger and false bravado are this side of Barney Fife, only more endearing. As his lust interest, Tyler plays a not-so-bad girl with a feisty and appealing verve. And while everyone else has his or her moments (Wilson has a great cameo as a no-nonsense blues singer who literally runs her own police interrogation), it's Close who carries the day as Camille Dixon, whose twisted sense of Southern propriety and family values sets the movie in motion. Close has played some demented dames in her day, but she's never depicted one with such comic insight. Whether she's knocking about in a yellow Pinto, biting crime tape in half with her teeth, or directing a church production of Salome as if she were Oscar Wilde herself, Close is a true joy. Without question, she's the heart and soul of Cookie's Fortune.
A note to readers: Bold and uncensored, The Austin Chronicle has been Austin's independent news source for over 40 years, expressing the community's political and environmental concerns and supporting its active cultural scene. Now more than ever, we need your support to continue supplying Austin with independent, free press. If real news is important to you, please consider making a donation of $5, $10 or whatever you can afford, to help keep our journalism on stands.
READ MORE
More Robert Altman Films
It's been a very long time since any Robert Altman film has been as enjoyable as A Prairie Home Companion.
Marjorie Baumgarten, June 9, 2006
Robert Altman sidles up to Chicago's Joffrey Ballet and finds lots of glorious footwork but missteps when it comes to storytelling.
Kimberley Jones, Jan. 30, 2004
More by Steve Davis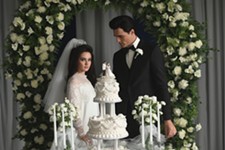 Measured journey behind closed doors of rock & roll's most famous marriage
Nov. 3, 2023
Ryan and Duchovny ponder the road not taken in magical rom-com
Nov. 3, 2023
KEYWORDS FOR THIS FILM
Cookie's Fortune, Robert Altman, Glenn Close, Charles S. Dutton, Patricia Neal, Liv Tyler, Julianne Moore, Ned Beatty, Chris O'Donnell, Donald Moffat, Courtney B. Vance, Lyle Lovett, Ruby Wilson
MORE IN THE ARCHIVES