The Last Days of Disco
1998, R, 120 min. Directed by Whit Stillman. Starring Chloe Sevigny, Kate Beckinsale, Chris Eigeman, Matt Keeslar, Mackenzie Astin, Matthew Ross, Robert Sean Leonard, Jennifer Beals.
Despite the title of Whit Stillman's latest film, the milieu is not the message: This ain't no party, this ain't no disco. Rather, The Last Days of Disco is yet another auteurish meditation on the young and the privileged -- some might call them yuppies -- in the same vein of Stillman's two other films, Metropolitan and Barcelona. While the film observes the waning zeitgeist of the disco era in early 1980s New York City, its setting has little thematic linkage to the many dramas that play out during its course. This isn't a movie about the tyranny of the velvet rope, the perils of casual hedonism, or the allure of greed, although those observations are made at one point or another. Instead, it is a story about loyalty, friendship, and honor. In other words, it's less titillating than you might expect. (What a more interesting film it might have been had it pondered the sociological theory that the yuppie infiltration of the big-city club scene contributed to the death of disco.) Yet, Stillman's direction and dialogue here seem looser, more hip than in his previous outings: Two suitors vying for the same woman engage in a pointed deconstruction of Lady and the Tramp; an impromptu, after-hours dance of flirtation slyly moves from the living room to the bedroom. The screenplay is also evenhanded in its portraiture of the twentysomething preppie in the first years of the Reagan decade, arguably to a fault. These are characters drawn with little judgmental sentiment; inevitably, the perspective is too objective. And for those with a predisposed bias against the prototype Stillman character -- white, straight, moneyed -- The Last Days of Disco may be an ordeal: Who in the world cares about these people? (It's the similar reaction the same viewer might have when reading the novels of Cheever or Updike.) Given his seeming mission to chronicle the lives of this particular American subculture in his films, prompted no doubt by his personal experience and lineage, Stillman is a unique voice in independent American cinema. Whether you consider him Proustian in his focus or a filmmaker stuck in the proverbial rut depends upon your perspective. Whatever that perspective might be, The Last Days of Disco will only give it more credence.
A note to readers: Bold and uncensored, The Austin Chronicle has been Austin's independent news source for over 40 years, expressing the community's political and environmental concerns and supporting its active cultural scene. Now more than ever, we need your support to continue supplying Austin with independent, free press. If real news is important to you, please consider making a donation of $5, $10 or whatever you can afford, to help keep our journalism on stands.
READ MORE
More Whit Stillman
Nineties auteur Whit Stillman returns with 'Damsels in Distress'
Leah Churner, April 27, 2012
More Whit Stillman
What Whit Stillman wants? More tap dancing
Kimberley Jones, Oct. 24, 2011
More Whit Stillman Films
What took Whit Stillman and Jane Austen so long to find each other?
Kimberley Jones, May 27, 2016
Greta Gerwig stars in Whit Stillman's new film that's full of awkward artifice and – dance.
Marjorie Baumgarten, April 27, 2012
More by Steve Davis
Miyazaki's gorgeous but oddly obtuse return to animation
Dec. 8, 2023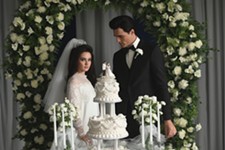 Measured journey behind closed doors of rock & roll's most famous marriage
Nov. 3, 2023
KEYWORDS FOR THIS FILM
The Last Days of Disco, Whit Stillman, Chloe Sevigny, Kate Beckinsale, Chris Eigeman, Matt Keeslar, Mackenzie Astin, Matthew Ross, Robert Sean Leonard, Jennifer Beals
MORE IN THE ARCHIVES