Two Girls and a Guy
1998, R, 84 min. Directed by James Toback. Starring Robert Downey Jr., Heather Graham, Natasha Gregson Wagner.
Ah Spring, when a young man's fancy turns to thoughts of… duplicitous, conniving, scheming, cheating, lying love. Toback once again directs Downey, Jr. (first time was in The Pick-up Artist in 1987) in this stagy paean to Nineties sexual mores, love, lust, and other crimes of the heart, but unfortunately, it's all a wash, and not nearly as interesting as the weekly heartbreaks of the Friends crew. As the film opens, two young women -- Carla (Graham) and Lou (Wagner) are standing on the sidewalk outside a Soho loft. Engaging in polite chitchat to pass the time, each reveals that she is waiting for her boyfriend to show up in order to surprise him upon his homecoming. The catch? Carla and Lou's lovers are one and the same guy, the wolfish actor and bon vivant Blake (Downey), who's about to get the surprise of his life. After reaching their mutual discovery -- and with Blake still nowhere in sight -- they break into his second-story loft and begin swapping horror stories. Blake, obviously, has been stringing both of them along with the same foods, stories, and ultimate pronouncements of True Love. Alas, it's all a sham, as Blake finally arrives home to find his worst fears realized and his tongue cleaving to the roof of his woefully dishonest mouth. This sets in motion 60-plus minutes of intellectualizing the male (and female, at times) libido and the need (or lack thereof) for honesty in a relationship. At first, the two women want nothing more that to beat the living daylights out of this hideous cad, but after a bottle of liquor passes between the two, they begin to downplay the grousing and allow their combined sexuality take over. The real question is this: What is Toback saying here? That it's alright to cheat on your lovers? Or is his point more along the lines of the genetic impossibility of monogamy between two human beings? No real answers are forthcoming. The script -- much of which was improvised over the course of the film's short, sharp shoot -- touches on everything from bisexuality to wanton desires to forgiveness in the face of overwhelming infidelities to Mormonism. (Despite the film's now-infamous 15 trips to the ratings board in order to bring one particular scene down from an NC-17 to an R, the film hardly deserves its dangerous reputation.) Both Graham and Wagner (daughter of Natalie Wood) are terrific, but it's Downey who predictably steals the show. In light of his recent prison-stint and ongoing narcotics troubles, it's almost painful to watch his character agonize over his "secret life" and "ceaseless lies" onscreen. One shot of him flipping out as he rants at his reflection in the bathroom mirror and moans about "getting it together" is so literal it's shocking to watch. But that has more to do with the reality of the actor's life than Toback's film, which, it should be said, is, in the end, not much. Were this staged as a play, the drama might catch some live-audience frisson, but in theatres it's just too remote. The emotions are turbocharged and the topic is eternally relevant, but that's not enough to save Two Girls and a Guy from being a whiny, snoozy bore. Nice poster, though.
A note to readers: Bold and uncensored, The Austin Chronicle has been Austin's independent news source for almost 40 years, expressing the community's political and environmental concerns and supporting its active cultural scene. Now more than ever, we need your support to continue supplying Austin with independent, free press. If real news is important to you, please consider making a donation of $5, $10 or whatever you can afford, to help keep our journalism on stands.
READ MORE
More James Toback Films
Mike Tyson tells his life story in his own words in this documentary by longtime friend James Toback.
Marc Savlov, May 29, 2009
Ever since his debut film Fingers in 1978, James Toback (Two Girls and a Guy, The Pick-up Artist) has been playing fast and loose with ...
Marjorie Baumgarten, April 7, 2000
More by Marc Savlov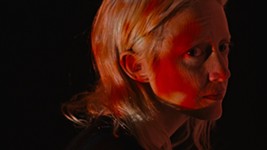 Identity melts in this psychotropic assassination brainblender
Oct. 2, 2020
Mangled Italian creature feature should be even shorter
Sept. 25, 2020
KEYWORDS FOR THIS FILM
Two Girls and a Guy, James Toback, Robert Downey Jr., Heather Graham, Natasha Gregson Wagner
MORE IN THE ARCHIVES