Soul in the Hole
1997, NR, 90 min. Directed by Danielle Gardener.
Though it's often used in connection with teams like Tom Penders' Texas Runnin' Horns, the term "playground basketball" doesn't necessarily refer to chaotic, brick-heaving, clearout-and-chuck trashball. In fact, when a great passer like New York playground legend Ed "Booger" Smith enters the mix, top-flight pickup games can be a thrilling blend of precision and recklessness in which every possession holds the promise of some insanely great play you'll be telling the grandkids about in 30 years. With an approach similar to Hoop Dreams, Danielle Gardener's documentary Soul in the Hole portrays the street game as a battleground in which concrete-court warriors' passion to "get over" is opposed by not only the many players of similar ability but also, in some cases, their own self-destructive tendencies. Soul focuses on the summer of 1994, during which the 18-year-old Booger Smith and his legendary amateur team, the Kenny Kings of New York City, battled for the Brooklyn tournament championship under the leadership of coach Kenny Jones, a profane, truculent liquor store clerk who also functioned as Smith's surrogate father. The film serves up a generous amount of eye-popping basketball footage, in which the Kings' babyfaced point guard effortlessly flashes the kind of crazy, inspired moves you associate with names like Stoudamire, Kidd, and Marbury. But for all his sublime mastery as a passer and ballhandler, Smith is also something of a lost soul. With a quick mind that is well attuned to recognizing defenses but not his own best interests, he seems equally likely to wind up as the baddest baller in Madison Square Garden or Rikers Island. Jones is, if anything, an even more interesting character. For all his overweening ego and volcanic temper, he has a distinct sense of purpose in life. His dialogues with wife Ronnet -- a tough, good-humored woman who is obviously one of the few people who commands macho Kenny's full respect -- provide realistic, compassionate insight into the destructive culture that Booger is trying to escape. Granted, the troubled young superjock is an overly familiar American archetype, but very few films have mined the drama and pathos of his situation more effectively than Soul in the Hole. And none that I've seen have suggested quite as provocatively that artistry and achievement in this unheralded context can be as meaningful as what others do in offices, commodity markets, and courtrooms.
A note to readers: Bold and uncensored, The Austin Chronicle has been Austin's independent news source for over 40 years, expressing the community's political and environmental concerns and supporting its active cultural scene. Now more than ever, we need your support to continue supplying Austin with independent, free press. If real news is important to you, please consider making a donation of $5, $10 or whatever you can afford, to help keep our journalism on stands.
READ MORE
More Films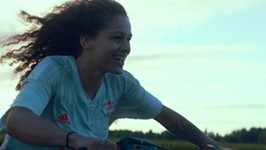 Tale of a French bike gang gets revved up by a vibrant performance
Alejandra Martinez, March 24, 2023
Unsubtle tale of addiction and redemption raised up by great performances
Kimberley Jones, March 24, 2023
More by Russell Smith
June 28, 2002
June 7, 2002
KEYWORDS FOR THIS FILM
Soul in the Hole, Danielle Gardener
MORE IN THE ARCHIVES