B.A.P.S.
1997, PG-13, 90 min. Directed by Robert Townsend. Starring Halle Berry, Martin Landau, Ian Richardson, Natalie Desselle, Troy Beyer, A.j. Johnson, Pierre.
Robert Townsend's career continues its ongoing descent with this ludicrously awful culture-clash comedy that somehow manages to make not only the usually luminous Halle Berry look inept, but also Landau, whose role here puts you in mind of some giant, obsequious puppy – he's so eager to comedically please that you frequently feel the need to check for drool stains on your trousers. As a longtime Landau fan (from Hitchcock's North by Northwest to Space: 1999 to Crimes and Misdemeanors), it pains me to feel this way about the Oscar-winning actor (Ed Wood), but how he came to be involved in this project is perhaps a mystery only Robert Stack could solve. Plotwise, B.A.P.S. is shot through with the very broadest of humor: Berry and Desselle play Nisi and Mickey, a pair of outrageous ghetto divas from Decatur, Georgia. Sporting gravitationally challenged hairdos, gold teeth, and enough spandex to put the Solid Gold Dancers to shame, the pair dream of one day opening a combination soul food restaurant and upscale salon. Their opportunity to raise the requisite cash arrives when Nisi spots an announcement offering $10,000 to the winner of a video dance contest in Los Angeles. Flying out to the left coast, the girls promptly discover that neither of them can dance very well, but fate intervenes in the form of an offer from the caretaker of a dying old man (Landau), who seeks companionship in his final days. Does it even bear noting that the pair's introduction into the bitter recluse's life results in love, laughter, and learning? Of course not, but then, the love is plastic, the laughter is forced, and the learning is remedial at best. Even that prince of prime-time pap, Aaron Spelling, rarely seeks so low a common denominator as this. Townsend appears to have slaughtered his earlier, edgier comedic stylings at the altar of mediocrity; disjointed, simplistic, and occasionally offensive, B.A.P.S. is the sound of careers imploding.
A note to readers: Bold and uncensored, The Austin Chronicle has been Austin's independent news source for over 40 years, expressing the community's political and environmental concerns and supporting its active cultural scene. Now more than ever, we need your support to continue supplying Austin with independent, free press. If real news is important to you, please consider making a donation of $5, $10 or whatever you can afford, to help keep our journalism on stands.
READ MORE
More Halle Berry Films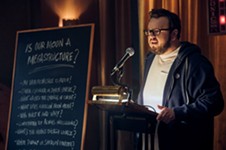 Disaster flick + Dyson sphere = Roland Emmerich's latest
Matthew Monagle, Feb. 11, 2022
Halle Berry aims to hit hard in this MMA drama
Nov. 19, 2021
More by Marc Savlov
Texas-made luchadores-meets-wire fu playful adventure
April 29, 2022
Technology and a lack of laughs get in the way of this rom-com
April 22, 2022
KEYWORDS FOR THIS FILM
B.A.P.S., Robert Townsend, Halle Berry, Martin Landau, Ian Richardson, Natalie Desselle, Troy Beyer, A.j. Johnson, Pierre
MORE IN THE ARCHIVES