Eddie
1996, PG-13, 100 min. Directed by Steve Rash. Starring Whoopi Goldberg, Frank Langella, Dennis Farina, Richard Jenkins, Lisa Ann Walter.
University of Texas alum Rash, director of my personal nomination for most disturbing film of all time, 1981's Under the Rainbow, checks in with this stunningly unoriginal piece of NBA pap that posits Goldberg as the coach of the New York Knicks. The horror, the horror…. Without even getting into what poor Woody and Spike must be thinking about this, suffice to say Rash and company plumb new depths of mediocrity in this tale of a loudmouthed Knicks fan who is hired by the team's new owner (Langella, utterly wasted) to be the new "show"-coach. The Knicks, fighting their worst season ever, are fragmenting under the combined strains of pressure, rampant egos, personal problems, and more. In steps Eddie Franklin (Goldberg), their number-one fan, who is given the opportunity to pull them out of their slump by the team's nefarious, numbers-happy owner. I'm not giving anything away when I tell you that she does just that through the combined energies of tough love and tender compassion. It's an old story, and one that's been done better countless times before. For her part, Oscar-winner Goldberg drops the ball more times than Jim Carroll on roofies. What may have once been hilarious is now simply irritating -- her loudmouth schtick is as threadbare as Dennis Rodman's hairline will be 30 years from now. Even cameos from such NYC luminaries as Ed Koch, Rudy Giuliani, Donald Trump, Sirajul & Mujibar, and appearances from NBA legends Walt Frazier, Rodman, the Spurs, Kings, and Pacers can't save this foul dog. And no Billy Barty, to boot.
A note to readers: Bold and uncensored, The Austin Chronicle has been Austin's independent news source for almost 40 years, expressing the community's political and environmental concerns and supporting its active cultural scene. Now more than ever, we need your support to continue supplying Austin with independent, free press. If real news is important to you, please consider making a donation of $5, $10 or whatever you can afford, to help keep our journalism on stands.
READ MORE
More Steve Rash Films
Brandon Routh stars in this story about a Native American high school lacrosse team.
Marjorie Baumgarten, June 8, 2012
Son-in-Law's only real surprise is that it's so much better than it has to be. Of course, you have to be expecting the worst in ...
Marjorie Baumgarten, July 2, 1993
More by Marc Savlov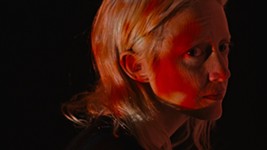 Identity melts in this psychotropic assassination brainblender
Oct. 2, 2020
Mangled Italian creature feature should be even shorter
Sept. 25, 2020
KEYWORDS FOR THIS FILM
Eddie, Steve Rash, Whoopi Goldberg, Frank Langella, Dennis Farina, Richard Jenkins, Lisa Ann Walter
MORE IN THE ARCHIVES