Shanghai Triad
1995, R, 109 min. Directed by Zhang Yimou. Starring Gong Li, Wang Xiao Xiao, Li Baotian, Li Xuejian, Shun Chun.
Blessed with a cinematic sensibility that appears only every so often -- Coppola, Scorsese, Almodovar, and Tarantino come to mind, to name just some of the relatively recent few -- Chinese filmmaker Zhang is creating a legacy that will undoubtedly elevate him to the mythic film pantheon, if it hasn't already. His films -- testaments to the terrible beauty of Chinese culture and history -- are visually arresting narratives, from the groundbreaking Ju Dou to the gorgeous Raise the Red Lantern to the heart-rending To Live. Frequently, the government of his homeland has not looked kindly upon the often critical sociopolitical content of his work -- To Live is nothing short of an indictment of the hypocrisy of three decades of Communist rule -- which may explain why Shanghai Triad doesn't feel up to Zhang's usual standards. Essentially told from the viewpoint of a 14-year-old boy brought to 1930s Shanghai to serve as a houseboy for the glamorous mistress of the city's crime lord, the film is pure melodrama, with just the hint of allegory. Of course, there's nothing wrong with melodrama, but it's always more compelling when accompanied by a meaty subtext. Here, the subtext may be the need of the totalitarian (i.e., Communist leaders) to eliminate friend and foe alike, all in the name of survival and the perception of such; if it is, then Zhang seems to really have gone out of his way to avoid the censorship he's experienced in the past by disguising this one as seemingly apolitical. Who's to blame him, but there's no question that it makes for less potent filmmaking. True to form, however, is the uncanny use of color and composition here, as well as the instincts Zhang demonstrates as a director who speaks the language of the movies. The scenes in the nightclub in which the kept woman Bijou performs are a hallucinatory blur of saturated reds and whites; although in vivid color, they bring to mind another film (albeit a black-and-white one) with the city of Shanghai in the title. The connection between Shanghai Express and this film resonates on an additional level: if Zhang is Josef von Sternberg, then Gong Li is his Dietrich. (One can only hope that news of their recent professional fallout -- Gong has appeared in every one of Zhang Yimou's films -- is only the stuff of rumor.) As the coddled paramour who comes to realize too late that she is as expendable as the lowliest peasant, Gong plays her character for all its trashy arrogance and conceit; she doesn't try to elicit any sympathy until the end, when the plot trips into fast-forward and the truth underlying several deceits is revealed. Because the story line unravels too quickly here, however, the full brunt of Bijou's realizations -- as well as the audience's -- falls somewhat short. It's disconcerting and vaguely unsatisfying, leaving you to relish the beauty of Zhang's eye, both in the Oscar-nominated cinematography of Lu Yue) and the presence of Gong Li. Which is, without question, a lot to relish…
A note to readers: Bold and uncensored, The Austin Chronicle has been Austin's independent news source for over 40 years, expressing the community's political and environmental concerns and supporting its active cultural scene. Now more than ever, we need your support to continue supplying Austin with independent, free press. If real news is important to you, please consider making a donation of $5, $10 or whatever you can afford, to help keep our journalism on stands.
READ MORE
More Zhang Yimou Films
Zhang Yimou's period martial arts drama probes the moral grays of life in a royal court
Richard Whittaker, May 17, 2019
Zhang Yimou's latest is a family drama set against the winds of history
Marc Savlov, Oct. 2, 2015
More by Steve Davis
Miyazaki's gorgeous but oddly obtuse return to animation
Dec. 8, 2023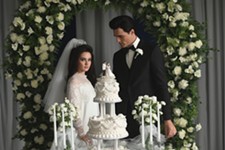 Measured journey behind closed doors of rock & roll's most famous marriage
Nov. 3, 2023
KEYWORDS FOR THIS FILM
Shanghai Triad, Zhang Yimou, Gong Li, Wang Xiao Xiao, Li Baotian, Li Xuejian, Shun Chun
MORE IN THE ARCHIVES