Reality Bites
1994, PG-13, 99 min. Directed by Ben Stiller. Starring Ben Stiller, Winona Ryder, Ethan Hawke, Janeane Garofalo, Steve Zahn, Swoosie Kurtz, Joe Don Baker, John Mahoney.
I guess if we have to have another movie about the angst-ridden twenty-something Gen X-ers, Ben Stiller is the guy to do it. After the unwarranted cancellation of his brilliant Fox TV show, Stiller has managed to make the leap to full-fledged filmmaker with apparent ease. He delivers this savvy, on-target glimpse into the lives of four young Houstonians that makes Cameron Crowe's recent Singles look like a tame also-ran. Like a lot of people in their mid-twenties, I find the increasing swell of marketing campaigns and pigeonholing off-putting, if not outright disturbing. Reality Bites taps into that annoyance and uses it as a springboard for a romantic comedy that often seems startlingly real. It's graduation day, 1994, and four friends gather under the video gaze of Lelaina (Ryder), the class valedictorian and aspiring documentarian who's currently holding down a makework job at the local access TV station, thanklessly production-assisting her butt off for the unctuous host of a Houston morning show, Good Morning, Grant! Her pals Troy (Hawke), Vickie (Garofalo), and Sammy (Zahn) are a motley collection of Gen X misfit/archetypes, a musician/slacker, an oversexed Gap manager, and an emerging homosexual, respectively. Most of the time, Lelaina spends her time trading barbs with Troy (whose band has the coolest name yet, "Hey, That's My Bike") and skirting precariously around the edge of the Big L. When she (literally) runs into semi-slick TV producer Michael (Stiller) and sets in motion the process of romantic entanglement, Troy finds himself acting like a jealous boyfriend and frantically trying to get his life in order before he loses out for good. Behind all the romantic trappings of Reality Bites are a multitude of day to day truisms that most twentysomethings will instantly identify with: Big Gulps, The Gap, HIV screenings and the omnipresent fear of AIDS, Conjunction Junction, etc. It's Stiller's knowledgeable use of these smaller touches that (along with the excellent cast -- it's great to see Winona relinquishing period gowns and back where she can do some real damage) pushes the film along a solid, fresh line and toward its admittedly Hollywood conclusion. Stiller and company imbue their film with an honest, sarcastic wit that's all too familiar: apparently, somebody's been filming our lives. Does this mean we'll all be getting royalties?
A note to readers: Bold and uncensored, The Austin Chronicle has been Austin's independent news source for almost 40 years, expressing the community's political and environmental concerns and supporting its active cultural scene. Now more than ever, we need your support to continue supplying Austin with independent, free press. If real news is important to you, please consider making a donation of $5, $10 or whatever you can afford, to help keep our journalism on stands.
READ MORE
More Ben Stiller Films
Are Derek and Hansel still in fashion?
Steve Davis, Feb. 19, 2016
This story of a milquetoast with a wild imagination stars Ben Stiller and is as pretty as it is busy. Opens 12/25.
Kimberley Jones, Dec. 20, 2013
More by Marc Savlov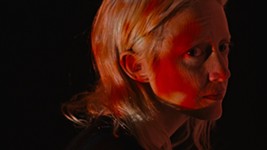 Identity melts in this psychotropic assassination brainblender
Oct. 2, 2020
Mangled Italian creature feature should be even shorter
Sept. 25, 2020
KEYWORDS FOR THIS FILM
Reality Bites, Ben Stiller, Ben Stiller, Winona Ryder, Ethan Hawke, Janeane Garofalo, Steve Zahn, Swoosie Kurtz, Joe Don Baker, John Mahoney
MORE IN THE ARCHIVES