Police Story II
1988, PG-13, 92 min. Directed by Jackie Chan. Starring Jackie Chan, Maggie Cheung, Bill Tung, Lam Kwok Hung, Charles Chao.
Picking up more or less directly after the ending of Police Story, Chan's legendary detective, Ka-Kui, has been demoted to the lowly rank of traffic cop as punishment for his previous recklessness in bringing the members of an Asian drug-running gang to justice. Much to the relief of his girlfriend May (Cheung), Ka-Kui ends up turning over his badge rather than face another day passing out speeding citations to disgruntled truckers and the like. Unfortunately, the Triad members he put behind bars last time out are back for vengeance, and on top of that, someone is planting hi-test packages of C-4 explosives all over the city. It's all in a day's work for Chan's beleaguered hero, however – if you're at all familiar with Chan's Police Story opus, you'll know well in advance who's going to come out on top. Half the fun, though, is getting there, and it's here that Chan succeeds, topping himself again and again with an ever-more-spectacular series of fight scenes and warehouse melees that leave the audience gasping for breath, unsure if what they just witnessed was real or merely playacting (and in Hong Kong cinema, the acting often bypasses the play and becomes a little too real: the director has graciously included a "blooper reel" that runs beneath the film's closing credits giving us a glimpse of the injuries sustained by cast and crew during the making of the film). While neither as outlandish as its sequel, Police Story III: Supercop, nor as emotionally turbo-charged as the series opener, this second Ka-Kui adventure rests comfortably in-between the others, overflowing with Chan's patented stuntwork and comic high jinks, and as such, it's a fine introduction to the Jackie Chan phenomenon.
A note to readers: Bold and uncensored, The Austin Chronicle has been Austin's independent news source for almost 40 years, expressing the community's political and environmental concerns and supporting its active cultural scene. Now more than ever, we need your support to continue supplying Austin with independent, free press. If real news is important to you, please consider making a donation of $5, $10 or whatever you can afford, to help keep our journalism on stands.
READ MORE
More Jackie Chan Films
A classic chopsocky mixture of action and comedy, capped by a ferocious 20-minute finale.
Joey O'Bryan, Oct. 19, 2000
This is the first in Chan's Police Story trilogy, and although some people herald it as the best of the lot, I'll still reserve that ...
Marc Savlov, July 30, 1993
More by Marc Savlov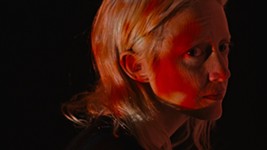 Identity melts in this psychotropic assassination brainblender
Oct. 2, 2020
Mangled Italian creature feature should be even shorter
Sept. 25, 2020
KEYWORDS FOR THIS FILM
Police Story II, Jackie Chan, Jackie Chan, Maggie Cheung, Bill Tung, Lam Kwok Hung, Charles Chao
MORE IN THE ARCHIVES