Police Story I
1985 Directed by Jackie Chan. Starring Jackie Chan, Brigitte Lin, Maggie Cheung.
This is the first in Chan's Police Story trilogy, and although some people herald it as the best of the lot, I'll still reserve that honor for the third installment of the series. In brief, Chan is cast here as a Hong Kong supercop (what else?) who is assigned to protect a key witness for the prosecution in an upcoming gangland trial. With the mob after him and co-workers who may or may not be on his side, Chan soon ends up being framed for the murder of another policeman. Not only on the run from the underworld but also from his own men, he suddenly finds himself out of viable options and is forced to work around the law in order to clear his name and rescue the beautiful witness. As far as Chan's story lines go, Police Story I could work as a schematic for the Hong Kong actioneer genre. Filled to bursting with chopsocky fistfights and stuntwork in which you could swear several actors were maimed or injured, the film nevertheless has long patches of talky exposition (none of which is made any more comprehensible by the film's odd subtitled translations) and Chan's trademark lowbrow slapstick. There is some serious downtime between the rapid-fire bursts of gunplay and mayhem, but perhaps I'm asking for too much; after all, as the reigning king of Hong Kong box office (alongside former compatriot John Woo), Jackie Chan's films have consistently provided action and humor in doses few American directors can touch. It's no mistake, then, that he remains one of Hong Kong's most popular exports, even if Police Story I falls a bit flat in more than one spot.
A note to readers: Bold and uncensored, The Austin Chronicle has been Austin's independent news source for almost 40 years, expressing the community's political and environmental concerns and supporting its active cultural scene. Now more than ever, we need your support to continue supplying Austin with independent, free press. If real news is important to you, please consider making a donation of $5, $10 or whatever you can afford, to help keep our journalism on stands.
READ MORE
More Jackie Chan Films
A classic chopsocky mixture of action and comedy, capped by a ferocious 20-minute finale.
Joey O'Bryan, Oct. 19, 2000
In the second part of Chan's Police Story opus, his detective is demoted to a traffic cop for his previous escapades but that still doesn't keep him out of trouble.
Marc Savlov, Sept. 17, 1993
More by Marc Savlov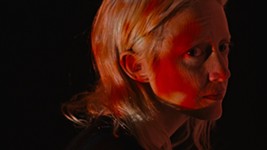 Identity melts in this psychotropic assassination brainblender
Oct. 2, 2020
Mangled Italian creature feature should be even shorter
Sept. 25, 2020
KEYWORDS FOR THIS FILM
Police Story I, Jackie Chan, Jackie Chan, Brigitte Lin, Maggie Cheung
MORE IN THE ARCHIVES