Army of Darkness
1993, R, 81 min. Directed by Sam Raimi. Starring Bruce Campbell, Embeth Davidtz, Marcus Gilbert, Ian Abercrombie, Richard Grove.
Clocking in at a surprisingly brief 77 minutes, this final installation in Raimi's Evil Dead trilogy is, well, a letdown of almost biblical proportions, especially to fans of the gore-drenched, anything goes prequels. Raimi regular Bruce Campbell once again portrays Ash, the hapless Everyman beset by otherworldly demons, though this time out he finds himself cast in the dubious role of savior of the 13th century. In an effort to return to his own time (and his valued retail position at S-Mart), he once again reads aloud from the accursed Book of the Dead, and, as usual, screws everything up, inadvertently resurrecting a skeletal Army of the Dead and unleashing the forces of evil. Raimi and co-author (and brother) Ivan Raimi have tried to broaden the almost slapstick appeal of the first two films, and what we end up with is one of those dread horror/humor hybrids that ends up going everywhere and nowhere simultaneously. While the first two films of the series were set entirely within the wonderfully claustrophobic confines of darkened, forest-shrouded cabins, Army of Darkness plays out on a much grander scale, with hundreds of actors and poorly-designed "deadites" marching around and killing each other with huge swords and catapults. It's almost a poor man's Excalibur, but the fact of the matter is that the film displays far too little of the incisor-sharp wit and out-of-control mayhem readily available in the other two films. It just doesn't work. Take my advice: if you haven't seen Evil Dead or Evil Dead 2: Dead by Dawn, run out and rent them (none other than Stephen King himself referred to Evil Dead as "the most ferociously original horror film of the decade." Army of Darkness can wait.
A note to readers: Bold and uncensored, The Austin Chronicle has been Austin's independent news source for almost 40 years, expressing the community's political and environmental concerns and supporting its active cultural scene. Now more than ever, we need your support to continue supplying Austin with independent, free press. If real news is important to you, please consider making a donation of $5, $10 or whatever you can afford, to help keep our journalism on stands.
READ MORE
More Sam Raimi
Trailers for new 'Star Trek', 'Fast and Furious' break up game
Richard Whittaker, Feb. 4, 2013
Sam Raimi shows a work-in-progress print of his new horror film Drag Me to Hell at a SXSW midnight screening
Marjorie Baumgarten, March 16, 2009
More Sam Raimi Films
Neither a besmirching nor a instant classic, this sometimes clunky prequel in which James Franco plays the Wizard when he was a mere, young huckster also has Sam Raimi's ravishing visuals.
Marjorie Baumgarten, March 8, 2013
Sam Raimi makes a triumphant return to the "splatstick" horror genre he more or less invented with The Evil Dead and its two sequels.
Marc Savlov, May 29, 2009
More by Marc Savlov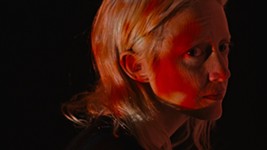 Identity melts in this psychotropic assassination brainblender
Oct. 2, 2020
Mangled Italian creature feature should be even shorter
Sept. 25, 2020
KEYWORDS FOR THIS FILM
Army of Darkness, Sam Raimi, Bruce Campbell, Embeth Davidtz, Marcus Gilbert, Ian Abercrombie, Richard Grove
MORE IN THE ARCHIVES