Police Story Iii: Supercop
1992 Directed by Tong Kwei-Lai. Starring Jackie Chan, Yang Gi-King, Maggie Cheung.
Forget Steven Seagal, Jean-Claude Van Damme and Chuck Norris (especially Chuck Norris). Hong Kong's Jackie Chan is now and forevermore the indisputable king of the high-blown, over-the-top actioneers, and in this newest installment of his enormously popular Police Story series, Chan -- with a sly wink and a What, Me Worry? grin plastered across his charming Everyman mug -- effortlessly proves it all over again. As in the two previous Police Story outings (both of which he had directed himself), Chan plays Chen Chia-Chu, a Hong Kong police officer so given over to his fearless pursuit of justice that his compatriots have taken to calling him "Supercop." Paired here with a gorgeous mainland lieutenant -- Yang Gi-King -- who's more than a match for her death-defying partner, Chan goes after "Big Brother," a Golden Triangle drug kingpin responsible for up to half of the heroin trade coming out of China. The plot here is more or less incidental to the action sequences it sets up, and, while you may be expecting just another chopsocky Fu-fest, Chan's gleeful sense of stunt timing and ever-present humor elevate the film above and beyond the plain realm of "normal" shoot-em-ups. Make no mistake: this is by far one of the best action films I've ever seen, made even more intense by the fact that Chan (and co-star Gi-King) does all of his own stunts, including an absolutely breathtaking bit that has him hanging from the rope-ladder of a helicopter 100 stories in the air. No, really, folks -- this is the genuine article. If you stick through to the end of the credits, the director has thoughtfully tacked on a "gag reel," that is, stray shots and bloopers of all the stunts that went wrong (the one involving Gi-King and a speeding car windshield looks especially, er, painful). Eee-yowch, this is a rollicking good time that will leave you breathless and exuberant all at the same time: "Oh man, that part where he..."
A note to readers: Bold and uncensored, The Austin Chronicle has been Austin's independent news source for almost 40 years, expressing the community's political and environmental concerns and supporting its active cultural scene. Now more than ever, we need your support to continue supplying Austin with independent, free press. If real news is important to you, please consider making a donation of $5, $10 or whatever you can afford, to help keep our journalism on stands.
READ MORE
More Jackie Chan Films
Cinematic retelling of the first Chinese climbers to summit Mount Everest.
Oct. 4, 2019
Jackie Chan takes a page from Liam Neeson
Marc Savlov, Oct. 13, 2017
More by Marc Savlov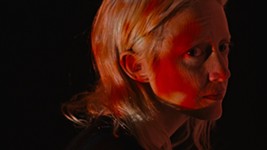 Identity melts in this psychotropic assassination brainblender
Oct. 2, 2020
Mangled Italian creature feature should be even shorter
Sept. 25, 2020
KEYWORDS FOR THIS FILM
Police Story Iii: Supercop, Tong Kwei-Lai, Jackie Chan, Yang Gi-King, Maggie Cheung
MORE IN THE ARCHIVES