Swoon
1992, NR, 92 min. Directed by Tom Kalin. Starring Daniel Schlachet, Craig Chester, Ron Vawter, Michael Kirby, Michael Stumm, Valda Z. Drabla.
Even by today's standards, the murder of 13-year-old Bobby Franks in 1923 Chicago shocks the conscience. The brutality of the killing, its Nietzschean motive, and the remorselessness of its perpetrators, Nathan Leopold and Richard Loeb, shook a post-war America buffeted by the winds of social, political, and cultural change. That young Bobby's murderers both were Jewish intellectuals from well-to-do families, only a few years older than he, made the crime all the more sensational. But – at least from the perspective of Swoon – it was the sexual relationship of Leopold and Loeb that made sense out of the senseless in the public's mind: their liaison exemplified the inevitable link between unspeakable acts and the love that dare not speak its name. (No doubt, this perception was recently reinforced by the horrors uncovered in Jeffrey Dahmer's apartment.) Politically incorrect in its subject matter – Leopold and Loeb are hardly positive gay role models – Swoon is nevertheless intriguing in its dreamy romanticism and eroticization of the criminal act. As a psychiatrist testified during their trial, the shifting passive/aggressive role-playing of the two young men, something akin to slave and master, was a function of the criminal activities they perpetrated together; apparently, the somewhat shy Leopold promised to abet more criminally minded Loeb in return for certain sexual favors. But, as depicted by Kalin, it's not as if their relationship lacked emotional resonance. The playful affection between the two suggests that in another time, another place, their bond might not have taken such a twisted form. Ellen Kuras' gorgeous black-and-white cinematography does much to enhance Kalin's expressionistic style, which deliberately distances itself from the more straightforward, psychological emphasis of other films about this infamous pair (Compulsion, Hitchcock's Rope). Although this somewhat enigmatic approach to the subject matter is artistically interesting, it's also frustrating if you're hungry for facts. (In this regard, the film's depiction of the murder trial, in which Clarence Darrow successfully obtained a life sentence for his clients despite the clamor for the death penalty, is a real letdown.) As part of the so-called Queer New Wave, Swoon lacks the angry-young-man passion of something like The Living End. In some respects, it's too subtle a work in this day and age in which rage is the ever-increasing response to a world that refuses to recognize those who demand to be counted.
A note to readers: Bold and uncensored, The Austin Chronicle has been Austin's independent news source for over 40 years, expressing the community's political and environmental concerns and supporting its active cultural scene. Now more than ever, we need your support to continue supplying Austin with independent, free press. If real news is important to you, please consider making a donation of $5, $10 or whatever you can afford, to help keep our journalism on stands.
READ MORE
More Tom Kalin Films
You can almost smell the desperation in the twisted psychosexuality of Savage Grace, the film purportedly based on the true story of a mother-son relationship that went tragically wrong.
Steve Davis, July 18, 2008
More by Steve Davis
Ryan and Duchovny ponder the road not taken in magical rom-com
Nov. 3, 2023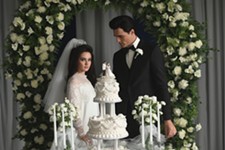 Measured journey behind closed doors of rock & roll's most famous marriage
Nov. 3, 2023
KEYWORDS FOR THIS FILM
Swoon, Tom Kalin, Daniel Schlachet, Craig Chester, Ron Vawter, Michael Kirby, Michael Stumm, Valda Z. Drabla
MORE IN THE ARCHIVES