Patriot Games
1992 Directed by Philip Noyce. Starring Harrison Ford, Anne Archer, Patrick Bergin, Sean Bean, Thora Birch, Richard Harris, James Earl Jones, Samuel L. Jackson, Edward Fox.
For a film in which cold-blooded murder is frequently committed in the name of country, the politics in Patriot Games are relatively bloodless. In this second big-screen adaptation of a Tom Clancy best seller (The Hunt for Red October, the 1990 surprise box-office smash, was the first), Jack Ryan -- now a former CIA intelligence analyst -- unwittingly foils a kidnapping attempt upon a member of the Royal Family while visiting London with his wife and daughter. Ryan's instinctive act of courage results in the death of a young Irishman recruited to participate in the kidnapping by an older brother, a man whose intense hatred for the British rule in Northern Ireland motivates him to kill mercilessly. (The brothers belong to a radical faction of the Irish Republican Army, if that's possible.) From there, Patriot Games pits the Ryan nuclear family against the terrorist seeking to avenge the death of little brother at any cost, without much attention paid to the politics which put the plot in motion. Without any such political dimension, Patriot Games is little more than a variation on Cape Fear or Fatal Attraction (the latter also featured Archer as the wife/mother whose family is threatened by an irrational outsider set upon destroying it). Director Noyce keeps things at a brisk, albeit sometimes disorienting pace, fashioning a couple of action sequences that are fairly effective. (Unlike director John McTiernan in The Hunt of Red October, Noyce isn't restricted to the claustrophobic confines of a submarine here.) Although the film lacks much of the high-tech gadgetry of its predecessor, a scene in which Ryan watched a computerized satellite feed of an assassination raid on the terrorist's camp is hard to shake; it plays like a video game in which the points scored with each killing are eerily unreal. The most interesting aspect of Patriot Games, however, is the casting of Ford as Ryan, given that Alec Baldwin originated the character in the preceding film. In contrast to Baldwin's rather colorless CIA analyst ill-suited for work as an agent, Ford informs his character with believable world-weariness which subsequently transforms into rage at the prospect of harm to his family. In many ways, Ford grounds Patriot Games in a degree of emotion that distinguishes it from most run-of-the-mill action thrillers. Here's to again casting him as Jack Ryan in the next installment.
A note to readers: Bold and uncensored, The Austin Chronicle has been Austin's independent news source for over 40 years, expressing the community's political and environmental concerns and supporting its active cultural scene. Now more than ever, we need your support to continue supplying Austin with independent, free press. If real news is important to you, please consider making a donation of $5, $10 or whatever you can afford, to help keep our journalism on stands.
READ MORE
More Philip Noyce Films
Dec. 9, 2023
More by Steve Davis
Miyazaki's gorgeous but oddly obtuse return to animation
Dec. 8, 2023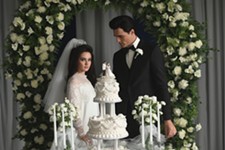 Measured journey behind closed doors of rock & roll's most famous marriage
Nov. 3, 2023
KEYWORDS FOR THIS FILM
Patriot Games, Philip Noyce, Harrison Ford, Anne Archer, Patrick Bergin, Sean Bean, Thora Birch, Richard Harris, James Earl Jones, Samuel L. Jackson, Edward Fox
MORE IN THE ARCHIVES