SXSW Music 2023: The Best Things We Saw on Thursday
Despite storms, we caught 03 Greedo, Sobs, Tangerine Dream, and more
With threats of lightning storms having already relocated Luck Reunion to Friday and KUTX's planned Lady Bird Lake showcase inside the Convention Center, Thursday shifts kept coming.
South by Southwest Music's fourth day progressed with news of outdoor set times across Stubb's and Cheer Up Charlies being pushed up to beat the impending downpour, followed by temporary evacuations of major events like Bose and NME's Inn Cahoots showcase once the evening lighting started. The biggest news arrived via the Moody Amphitheater at 9:46pm: The already-kicked-off and then evacuated Billboard showcase was off, canceling Lil Yachty's headlining performance. Chronicle writers stuck around for other weather-delayed events, including Tangerine Dream's late-night immersion at Parish.
03 Greedo's First Performance Following Over Four Years in Prison
Maybe it's for the best Lil Yachty didn't get his rock star moment. Sure, the dashed prospect of the onetime rapper's full-band Moody Amphitheater reinvention will probably forever remain a tantalizing proposition for South By scholars (*Lil Yachty "Poland" voice* "I TOOK THE RA-AI-AIN TO AWWWWSTIN"), but I nevertheless feel confident that music history will look back on Thursday night's abbreviated Billboard showcase with fondness and significance. Yes, it's bitterly ironic that earthbound downpours thwarted the former Michigan Boy Boat mixtaper's flashy genre jailbreak from hip-hop to cosmic-soul-psychedelia. But in elevating the first show of 35-year-old living legend 03 Greedo since 2018 to accidental headlining performance, those winds of chance also made sure his recent release following four and a half years in Texas prison didn't go uncelebrated. Certainly the artist in question wasn't gonna place nearly as much emphasis on himself.
"Y'all know I'm on TikTok? I ain't even seen that shit," snarled the L.A. rapper about halfway into his set. "I just got out yesterday, better turn up!" And while that's not literally true (he got out in January), there was, until that point, no indication that Greedo viewed his own cool-and-in-command performance as anything out of the ordinary. Taking the stage in a shiny silver jacket and toting a duffle to match (the contents of which remain a very Pulp Fiction mystery), the rapper spent his set canvasing the Moody stage in an endless back-and-forth pace – a looping, hypnotic march that matched the slur of his narcotizing nasal croon in sheer rhythmic trance. It was like he never left. – Julian Towers
J Dilla Panel Writes Fanfic for Hip-Pop Heads
Since his death in 2006, hip-hop producer J Dilla has become one of the most revered musicians across any genre. Last year, the exhaustive 480-page biography Dilla Time explored the secrets to his signature swung production style; it also shared fanfic style stories about Dilla making a beat called "The Matrix" the night he watched the film in a Detroit theater alongside Questlove (or was it Common?). A SXSW panel re-created the myths and magic of that book, featuring Dilla collaborators Peanut Butter Wolf, J Rocc, and DJ Jazzy Jeff, in conversation with Dilla's mother Ma Dukes and moderator Asya Shein (Dilla's former manager). Ma Dukes lovingly told stories of Dilla dancing to James Brown in his playpen, and how he had perfect pitch at two months old. DJ Jazzy Jeff remembered cheesesteaks and record digging in Philly. Peanut Butter Wolf shared his reaction to hearing the first CD demo of Donuts in his car. J Rocc geeked out about watching Dilla sample drums, and everyone chimed in with awe about his technical mastery of the MPC3000. It was an insightful celebration of a man and his music, but really just an introduction – those interested in the more complicated and controversial parts of his legacy should dig into Dilla Time. – Dan Gentile
Frost Children's Hyperpop Homage to Bop It and Sweetgreen
Of all who have tried to get me to listen to hyperpop, I didn't expect two smartly dressed, Victorian child lookalikes to emerge victorious in the genre crusade. In the midst of yesterday's FLOODfest at Mohawk (pun intended), Brooklyn duo Frost Children effortlessly roused a hydrophobic 1pm crowd with scream/sing duets, discordant melodies, and pounding bass lines. Siblings Lulu and Angel Prost's shared deadpan humor worked as silly, nonsensical segues between songs. As the outdoor crowd occasionally struggled to gauge the beginnings and ends of each track, temporary confusion barely made a dent in the performers' glitching, guitar-laden soundscapes. Standouts "MAYFLY" and "SNAIL'S PACE" evoked Korn-level muddiness and pop-punk pep, respectively, while taunting "FOX BOP" paid homage to the 2000s toy, Bop It. The orange- and silver-haired pair also teased a handful of songs from upcoming album SPEED RUN, out April 14. Most striking was Frost Children's hilariously stoic response to Weezer's "Undone - The Sweater Song," instead lyrically focused on Jack Harlow's (currently nonexistent) Sweetgreen bowl. Lulu and Angel ended 35 zany minutes in the rain with an unreleased track reminiscent of early aughts nightcore mixes, bearing increased vocal pitches and twinkling synthwork before a surprise outfit change initiated one final wave of ferocious dissonance. – Kriss Conklin
The Rise, Fall, and Sweet Spot of the Music Press
Yesterday at the Austin Convention Center, Rolling Stone supervising producer Delisa Shannon, Consequence contributing editor Mary Siroky, and London's Times pop and rock critic Will Hodgkinson sat down to discuss finding fertile ground between music journalism's over-glorified past and its (thankfully) expanding future. Moderated by Big Feat PR founder Doug Hall, the panel opened with reflections on the beginnings of music press. Hodgkinson was quick to point out that music media's so-called golden age of critics during the Seventies is not a period universally acknowledged as such. Shannon quipped, "It was great for white dudes," and the room chuckled in agreement. When asked whether the press or social media has more control over shaping industry narratives, Siroky and Shannon launched into defining the "sweet spot" of music journalism, or striking the balance between keeping a pulse on rising stars and covering what's trendy. "I don't know if it's realistic to think you can find somebody before they're popular," said Shannon, making note of Billie Eillish and Doja Cat, both of whom had good streaming numbers and dedicated fan bases before their claims to fame. Hodgkinson dismissed the brief debate with a more clear-cut answer: "The bottom line is the person behind the story." Regarding the future of music press, the panel was in agreement about the significant growth the industry has undergone. "Popular music isn't even pop music anymore," Shannon said. Hodgkinson defined failed attempts to hold onto outdated notions and practices as the initial "fall" of the music press, but remains hopeful about the industry's renewed trajectory. – Kriss Conklin
Sobs Battles Gloomy Weather with Sunny Indie Pop
Odds stacked against Sobs in the final city of their first U.S. tour Thursday night: a drummer they'd only rehearsed with once, forced to start an hour early, and a smaller turnout due to the threatening, gloomy sky above Cheer Up Charlies' outdoor stage. But as the Singaporean indie-pop band dove straight from soundcheck into the opening cheery riffs of "Air Guitar," reminiscent of the sunny tropical island, any fluster quickly faded. The trio and backing touring band rocked through the heavy chords of "Astronomy" and the enchanting chorus of "Last Resort," with bandleader Celine Autumn's dreamy vocals and rockstar vigor at the fore. Distorted guitars and a cosmic synth slowed into bars of cymbal crashes that appeared to mark the end of "Friday Night," but the standout song peaked in a pixelated explosion of electronic psychedelia. Ninety seconds of unrestrained dancing ensued, led with a vengeance by a scampering, shimmering synth. Right after debut single "Girl" and pop-rock anthem "LOML," the stage crew abruptly cut the band off at a measly 22 minutes for Knifeplay to follow, leaving Autumn barely any time for closing words. Cheer up, Sobs. The crowd, too, would have loved their unplayed closer "Telltale Signs." – Wayne Lim
Paisley Fields Imagines His Own Lavender Country
"We're going to get started with a song about gay sex," announced Paisley Fields before launching into the wonderfully raunchy "Ride Me Cowboy" with his threepiece. "I didn't say it would be subtle," he added mid-song. Indeed, Fields' queer country offers a refreshingly unapologetic vision that swings at times bold, bitter, bawdy, and tender behind his cool, coy croon. Behind his keyboard at the 13th Floor in a star-spangled vest and assless chaps, and flanked by Johanna Rose on upright bass and Larah Helayne on guitar and fiddle, the Brooklyn songwriter leaned mostly on last year's third LP Limp Wrist, which streamlined the tradition of Lavender Country through Eighties neo-trad and Seventies women country icons into a compelling contemporary sound. "Plastic Rosary" and "Junkyard Angel" bloomed earnest ballads and the small town escape of "Iowa" swooned achingly, if brutally, beautiful. "It's not gay country if it's not a little sad," he offered. Bringing the mighty Mya Byrne onstage – who's having her own breakout moment behind recent singles "Autumn Sun" and "Come On" – the two countered with the cathartic "Jesus Loving American Guy (Limp Wrist)" and their raucous Loretta Lynn-inspired co-write "Stay Away From My Man." Fields is far from mere gimmickry though, and an exciting, vital voice in expanding what country music can encompass. – Doug Freeman
Hannibal Buress is Serious About Rap… Kinda
"This is a new experience for me," Hannibal Buress explained to the crowd at Empire, "…not making music, but usually when I play in Austin I get paid a lot of money." The standup comic's new musical project Eshu Tune went over like crazy at the Lost Weekend day party put on by Resound and Brooklyn Vegan. It was a performance that effectively balanced solid hip-hop skills with an overall just really funny experience. Buress had bars, lyrics that were intriguing enough to make me want to hear the recordings, but also a gag where he covered "Our God Is an Awesome God." He totally tossed off a song about how he doesn't own a car… or, specifically, that he bought a 2018 Highlander when he lived in Hawaii but didn't give a shit enough to ship it to the mainland when he moved. What impressed me most was that Eshu Tune had more of an organic live band feel than most of the acts I saw on Thursday, and making live band hip-hop work isn't easy. He closed the show with "Veneers," a collaboration with Danny Brown, who he joined onstage a couple hours later at Dr. Martens party. – Kevin Curtin
Maximalist Otoboke Beaver Wins Over ACL Live
Experimental punk quartet Otoboke Beaver's dizzying grindcore-like blitz seemed like a hard sell for the initially irresolute audience at ACL Live on Thursday evening. Following their congested gig at Hotel Vegas just an hour prior to the 7:50pm slot at Rolling Stone's Future of Music showcase, the Kyoto fourpiece took the stage after intimate L.A. alt-rock up-and-comers Blondshell, and promptly launched into the angular and abrasive "Akimahenka." As with Otoboke Beaver's recordings, there is no middle ground with the band in a live setting either. Every song explodes with unrelenting ferocity. The purveyors of maximalism thrive on abrupt time signature switch-ups and splintered riffs, like in the springy, slightly more danceable "Pardon?" and the thrashing "I Checked Your Cellphone" from last year's acclaimed Super Champon. Singer Accorinrin, guitarist/vocalist Yoyoyoshie, bassist Hiro-Chan, and drummer Kahokiss conquered the sprawling 30 minute set with technical prowess, cracked jokes, and flipped off a few cameras as the center of the crowd worked its way into a frenzied circle pit. – Nayeli Portillo
Tangerine Dream Eternal
"We will try to play a long set for you," stammered Thorsten Quaeschning in very fine broken English. "A very long set!" Tangerine Dream delivered the full monte Thursday night at Parish all right, 90 minutes on the nose. Obvious issue being he delivered it past 1am on an evening temperatures plummeted 25 degrees between parking my car and battling scything wind and rain back to it nearly six hours later. Performing an hour late, Ukrainians the Kulush Orchestra took the Beasties folkloric. Palm Springs duo Desire, dom and keys, bowed to New Order with "Bizarre Love Triangle." Berlin's Brandt Brauer Frick lent the latter to the headers after electro noodling then banging. Their neighboring pioneers Tangerine Dream, also three including Osaka-born violinist Hoshiko Yamane, then delivered every watt of potential ever wrung from a synthesizer.
The German triumvirate, powered on in 1967 by the late Edgar Froese (1944-2015), didn't invent the audio signal generator. They made it visual. Borderline visuals behind Tangerine Dream couldn't do justice to a progressive rock act that morphed into a landmark movie soundtrack brand. Every film that ever scored a car chase, or say the train scene in Risky Business, owes copyright coin to a group equal parts machine-generated rhythms and human hands depressing keys on said machines. Quaeschning conducted like Mozart, layers upon layers of cascading notes, Yamane sawed her bionic fiddle as if possessed, and Frick rocked a titanic bottom ballast. Past 2:15am, that tingler tweaking The X-Files theme turned out to be their Stranger Things remix. To the last holdouts, maybe 75 from a once packed room, Quaeschning said they hoped to tour the U.S. this fall. Be there. Tangerine Dream didn't score Sorcerer for nothing. – Raoul Hernandez
A note to readers: Bold and uncensored, The Austin Chronicle has been Austin's independent news source for over 40 years, expressing the community's political and environmental concerns and supporting its active cultural scene. Now more than ever, we need your support to continue supplying Austin with independent, free press. If real news is important to you, please consider making a donation of $5, $10 or whatever you can afford, to help keep our journalism on stands.
READ MORE
Welcome to the most curious performance of SXSW Music 2023
Kevin Curtin, March 19, 2023
Band of Heathens, Kelsey Wilson, Spoon made rain-delayed ranch date
Doug Freeman, March 18, 2023
More by Julian Towers
Arya's Weyes Blood aftershow, celebrating SPOT, Urban Cultural Fest, and more
March 31, 2023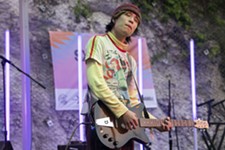 A primo Tiger Den showcase, iLe, Hermanos Gutiérrez, and more
March 16, 2023
More by Dan Gentile
A Margo Price keynote, Koffee's evolution, & Obongjayar's rising star
March 18, 2023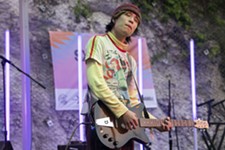 A primo Tiger Den showcase, iLe, Hermanos Gutiérrez, and more
March 16, 2023
More by Kriss Conklin
Arya's Weyes Blood aftershow, celebrating SPOT, Urban Cultural Fest, and more
March 31, 2023
Women of Antone's, underground MCs, FuckEmos, and more recommended shows
March 24, 2023
KEYWORDS FOR THIS POST
03 Greedo, J Dilla, Frost Children, Sobs, Paisley Fields, Hannibal Buress, Otoboke Beaver, Tangerine Dream, SXSW Music 2023, Lil Yachty
MORE IN THE ARCHIVES