SXSW Music 2023: The Best Things We Saw on Tuesday
Bartees Strange, Coco & Clair Clair, plus a PinkPantheress misfire
Day two of South by Southwest Music fired on all cylinders, with long lines reappearing on Red River Street and beyond for booking agent- and genre-themed showcases alike.
Explore 10 of the Chronicle music team's favorite, and misfired, Tuesday performances below – including a showcase advocating for fair pay at SXSW, and a new partnership between the Saxon Pub and Bluebird Cafe. Also find our recaps of the day's DAWA Unity showcase and music panels, or revisit our Monday coverage here.
Bartees Strange Scores His Southern Life Story
Following a Swedish pop-punk mosh pit and autographed guitar giveaway, a hype-filled Tuesday night at the Belmont took a turn for the quietly introspective when Washington, D.C. indie rock artist Bartees Strange graced the stage sans backing band. With only a Fender guitar slung across his shoulder and a synth player to his right, the singer initiated 28 minutes of unrelenting vulnerability with "Mustang." The initially jarring absence of the Live Forever track's galloping drum/bass combo ultimately accommodated Strange's soaring vocals as he progressed from crooning to screaming frustrations at his rural Oklahoman hometown. Crisp guitar tones and twinkling keys scored the evening, while the 34-year-old's candid storytelling crafted delicate vignettes. From the pensive plucks of "The Line" to the soulful burn of "Hennessy," Strange recounted experiences of being a Black man in America from childhood to present. Although the majority of his performance lent to emotional deep dives and pensive lyricism, the songwriter/producer also allotted light-hearted numbers like lunar daydream "Escape the Circus." To close out, guitar traded for drum machine to cover the National's "About Today." He warned the crowd he plays the song "a little differently," before grinning and launching into a looping, reverb-heavy rendition that barely resembled the 2004 track. Bravo, Bartees. – Kriss Conklin
Fair Pay at SXSW Showcase Finds Support from Greg Casar and Zo Qadri
"Well, they offered us money to play." It's hard to think of a more appropriate response to the question "why are you playing this show?" But when Ratboys frontperson Julia Steiner tells it to the Chronicle, shortly before her five-time SXSW certified band opened the Union of Musicians and Allied Workers showcase at Hole in the Wall last night, that answer came out in a tentative whisper. "Obviously we're of the opinion that artists should be paid fairly," she said. "But at the level of a band not really doing this primarily to make money, it's a tricky subject to talk about."
So it was that – minus union co-founder/evening emcee/Hi-NRG dance punk Joey La Neve DeFrancesco – the night's showcased musicians mostly allowed their sheer sonic presence to speak to the controversies that have this year reached a fever pitch surrounding SXSW's longstanding $250-or-a-wristband payment (for the free-with-a-recommend-donation event, UMAW performers were paid $750). In addition to Ratboy's "Rockin' Stroll" twang, the night was highlighted by Enumclaw's emotive power-chord indie and Divino Niño's technically adept psych-pop.
Instead, with one memorable exception, the burden of impassioned agitprop fell mostly on two guest speakers. "$250 is a slap on the face," said City Council member Zohaib "Zo" Qadri. "Whether you're a musician already here or you're coming to give your love to the city, Austin is losing the soul that made it so beautiful." Congressman Greg Casar later agreed: "We don't want our musicians to starve. We want them to keep creating what is the lifeblood of this city."
In addition to statements from the Ophelias and Blvck Hippie, Pleasure Venom vocalist Audrey Campbell provided the aforementioned memorable exception. "This next one's called 'Sucker,'" the local punk singer said, before adding with a dark laugh. "That's what you are for playing South By for $250." – Julian Towers
Nostalgic Rock Poets the Lemon Twigs Remain Evergreen
Although the Lemon Twigs began their Cheer Up Charlies set 10 minutes late after painstakingly adjusting their microphone audio levels, they proved to be worth the wait. The D'Addario brothers sowed their evergreen creative prowess in just nine tracks. Emulating a lush soundscape reminiscent of the Beatles and Elton John, harmonizing seems to come second nature for Michael and Brian, who blended their airy vocals and meticulous guitar sections with ease in opener "The One." The rock band also rotated instruments throughout, with younger brother Brian twirling drumsticks while his elder fluidly maneuvered bass notes and runs in "Any Time Of Day," where these poets offered some introspection: "Sometimes you have to crawl / To know that gravity is working." Belting about unrequited love, the group's live version of "I Wanna Prove to You" stood out as a sonic pendulum, swinging back and forth between time signatures and dreamy, oceanic tides. Bass supplied by one of the fourpiece's additional touring members in "Corner Of My Eye" added groovier dimension to delicate, fluttering melodies. The pair possessed an awe-inspiring knack for musical phrasing, crafting nostalgic songs that illustrate precisely who and what humans long for. – Angela Lim
Spill Tab Leads a Contagiously Cool French Lesson
Before introducing "Calvaire," one of three frothy French tracks in Spill Tab's alternative arsenal, the Bangkok-born, L.A.-based opener of Rolling Stone's Future of Music showcase facilitated a quick pronunciation exercise. "Put your pussy into it," the French-Korean singer-songwriter implored the ACL Live crowd to repeat after her. "Croissant! Sacre bleu!" Within a 30-minute set – more than half the length of her whole discography – Spill Tab carried an addictive je ne sais quoi, entrancing with chiffon-like vocals and a contagiously cool stage presence. Donning saccharine spirit and a shirt that read "BORN FREE," the SXSW newcomer looked, smiled, and gestured at every showcasegoer as entered with a rockstar rendition of "Grade A." Despite an earsplitting bass volume that occasionally drowned out the part-time tattoo artist's voice, the multi-instrumentalist impressed with a riveting guitar solo in "Velcro." A sea of badgeholders tapped their feet along to the bass drum kick of "Splinter" and crashed into its turbulent, prickling chorus. The crowd – half of whom claimed to be lactose intolerant – indulged in the oatmilk enthusiast's exhilarating, genre-blended "CRÈME BRÛLÉE!" for dessert, as well as a stripped-down ukulele cover of Usher's "Yeah." Spill Tab blowtorched and carved a name for herself. – Angela Lim
Robby Krieger Lights the Doors' Fire
Dyed in the wool devotee since 1979 when my parents took me to a premiere of Apocalypse Now, I can unabashedly state increasing regret for not attending a 2002 Bee Caves concert by Ian Astbury, Ray Manzarek, and Robby Krieger of the Doors, and Police percussionist Stewart Copeland. Last night at the Belmont for an hour and 45 minutes, the guitarist of both quartets massaged that deep psychological wound. Centerstage in a fourpiece including son Waylon singing and co-frontman Dan Rothchild on bass, offspring of Doors producer Paul Rothchild, Krieger took a full house back to the land time never forgot. Hard-wired to his custom Gibson SG, the man who wrote "Light My Fire" began at the cymbal ride to "Break on Through (to the Other Side)," ended atop an 18-minute rendition of "Jim Morrison's favorite song," "When the Music's Over," and closed out with L.A. Woman stinger "The Wasp (Texas Radio and the Big Beat)." In a pioneering act whose Oedipus complex and booming baritone defined rock & roll existentialism, the gutsy, graceful, and equally lyrical riffs of Krieger, 77, cut through all the hazy pretense. Of "Love Her Madly," he added, "I wrote this about Waylon's mother who I'm still married to today, 51 years." Actor Dennis Quaid guest nailed "Riders on the Storm" and "Roadhouse Blues," while the man of the hour seared "Eleanor Rigby" and "My Favorite Things" into a 10-minute "Light My Fire." – Raoul Hernandez
Coco & Clair Clair Share Shy Braggadocio
Are Coco & Clair Clair making the little bad girl soundtracks their childhood selves once needed? Prince engineer Susan Rogers talked about appealing to young kids for career success at an SXSW conversation earlier that day, and the Atlanta-reared duo have that all sewn up. What initially seemed like lo-fi innocence – pretty, bedroom-pop-drenched ethereal coos – ultimately assaulted Empire Garage audiences with brazen one-liners. Like being punched in the mouth by a cupcake, the duo's casual, languidly-delivered lyrical game and tongue-in-cheek banter opened a few dates with popular hardcore band Turnstile last year. Closing out the SXSW Music Opening Party on Tuesday night, Coco & Clair Clair pulled from major 2022 upgrade LP Sexy with a backing DJ. With sunglasses on and plenty of insouciance, Coco said, "Free Britney. Still. Is she free yet? I don't know. I don't have Instagram." Seemingly shy onstage for all the braggadocio, C&CC's vocals were clear as day, staking their claim for electronic pop. – Christina Garcia
Saxon Pub and Bluebird Cafe Team Up for Stellar Song Swap
"This is a true listening show," Saxon Pub proprietor Joe Ables announced while shushing the audience at the outset of an A-list songwriter showcase to kick off the venerable venue's SXSW. Away from the downtown noise, the audience dutifully complied, though the song swap between Bruce Robison, Liz Rose, and Lee Thomas Miller didn't really need the admonishment. The event launched a new partnership between the Saxon Pub's longtime South Lamar songwriter haven and Nashville's iconic listening room, the Bluebird Cafe. As expressed by Bart Herbison, executive director of the Nashville Songwriters Association, the show was the first in a planned series of efforts to strengthen ties, and business, between the two music cities.
They couldn't have tapped better talent to represent both Austin and Nashville. "If we sing it, we wrote it. This ain't hillbilly karaoke," declared Miller before launching into "Southern Girl," taken up the charts by Tim McGraw. In fact, McGraw played a prominent role throughout the night, not only for the money he's put in songwriters' mailboxes (Robison's impeccable "Angry All the Time"), but also as the title inspiration for Rose's hit composed after meeting "a little blond-haired girl named Taylor." Over the 1.5 hour, 15 song cavalcade, Rose highlighted her co-writes with Swift, none more enthusiastic than when a fan was invited onstage to sing the breathless "You Belong With Me." Robison likewise devastated the room with "Travelin' Soldier," and Miller's hilarious storytelling was matched only by his songwriting ("You're Gonna Miss This," "In Color"). Professional songwriters rarely capture the spotlight as much as the superstars they propel, but as the Saxon and Bluebird continue to prove, it's the songs themselves that ultimately keep an audience rapt. – Doug Freeman
Pigs Pigs Pigs Pigs Pigs Pigs Pigs Pump Acid Rock Iron
Cheer Up Charlies filled the air before midnight with throbbing EDM, coaxing several badged punters to wave their arms like, well, you know. One wonders if they knew what they were in for. The Orange amps strewn about the stage should've been a clue: This was gonna be a loud one. When Pigs Pigs Pigs Pigs Pigs Pigs Pigs invaded the stage, the resulting racket dispelled any lingering odor of dance music like Febreze on a cat box. Clutching his Telecaster to his chest as if he was afraid the strap might break, Sam Grant bashed out rhythm guitar with nervous energy, while his co-axeman Adam Ian Sykes coolly exhaled melodic leads. Bassist John-Michael Joseph Hedley furiously headbanged in his own heavy metal fantasy, as drummer Ewan Mackenzie calmly laid foundation, equal parts punch and swing. Looking like your accountant uncle at Fight Club in a tank top and Chinese dragon workout shorts, vocalist Matthew Baty squatted, shadowboxed, weight lifted his mic, and paced constantly as he ranted and raved above his compadres' din. (Good thing he limbered up offstage.) "Big Rig" and "Ultimate Hammer" roared; closer "A66" forwarded both punk and acid rock while keeping the motorik roiling. Once the feedback faded, the sweaty crowd tried to match the volume of the music with its own eager cheers. A for effort. – Michael Toland
TikTok Superstar PinkPantheress Doesn't Translate IRL
Hundreds of her followers snaked down 6th Street outside Mala Vida waiting for a chance to see 21-year-old British bedroom pop phenom PinkPantheress in the flesh, folks who've consumed her syrupy R&B songs alongside countless 9:16 ratio videos. The few fans who made it inside the "So Satisfying House" were treated to ASMR-themed activations like a pimple-popping booth and a looping video projection of everyday objects that don't look like cake but WOAHHHH turns out they're cake. But I am not here to judge those who find satisfaction in dermatology porn; I am here to report on how PinkPantheress' bite-sized, vertical pop music translates onto a horizontal stage.
When PP finally stepped up to the mic to greet the crowd, an hour late, she was nearly inaudible. That didn't turn out to be much of a problem, because the DJ was just playing the album versions of her songs, vocal tracks fully intact. In 2023, the definition of "live concert" is definitely up for debate. There's a wide spectrum of ways to deliver meticulously produced pop music that don't involve live instrumentation. PinkPantheress's performance was the saddest point on that spectrum. No backup dancers, no light show, no video projections. It was just PinkPantheress vibin' out while her music played in the background.
At several points in every song – which are only 90 seconds long, mind you – she would just stop singing altogether, choosing instead to giggle with her followers in the front row. In those moments, she held the mic far away from her face, absolutely no shame in her lip sync game. What makes this all a real bummer – aside from the dystopian music industry implications of TikTok superstardom – is that I actually really like her music. "Boys a liar Pt.2" will infect your brain the first time you hear it, the UK garage backbone propelling a vocal hook that rivals the best lines Brandy ever sung. Unfortunately, when you slice it open, there's no cake to be found. – Dan Gentile
Bombshell Rapper Villano Antillano's Well Worth the Wait
Tuesday night's crowd at the Parish may have dwindled down to half its original size following rapper and practicing doctor PJ Sin Suela's raunchy and exuberant performance, but those committed to wait it out (and exercise patience amid a few technical difficulties) for Caribbean "Cuir" bombshell rapper Villano Antillano's after-hours set were not left disappointed. Wrapping up a rap, R&B, and reggaeton-stacked bill featuring fellow emerging artists like Immasoul, RaiNao, and Alejo, the Puerto Rican trailblazer finally appeared onstage, decked out in all-white, at 1am sharp. Die-hards rallied around en masse and chanted "Villana." Opening with the trap-tinted party prelude "Precaución, esta canción es un hechizo," the bonafide baddie delivered each bristled verse with a hearty dose of braggadocio, leaning into her coquettish provocateur meets villainess popstar persona. Halfway into the debaucherous "¡Hello Kitty!," she took a generous hit from a blunt and twerked her way through the hypnotic, EDM-spiked haze of loosie freestyle "Bzrp Music Sessions #51," pausing between takes to honor late queer dembow pioneer La Delfi and advocate for trans rights. – Nayeli Portillo
A note to readers: Bold and uncensored, The Austin Chronicle has been Austin's independent news source for over 40 years, expressing the community's political and environmental concerns and supporting its active cultural scene. Now more than ever, we need your support to continue supplying Austin with independent, free press. If real news is important to you, please consider making a donation of $5, $10 or whatever you can afford, to help keep our journalism on stands.
READ MORE
Welcome to the most curious performance of SXSW Music 2023
Kevin Curtin, March 19, 2023
Band of Heathens, Kelsey Wilson, Spoon made rain-delayed ranch date
Doug Freeman, March 18, 2023
More by Nayeli Portillo
Despite storms, we caught 03 Greedo, Sobs, Tangerine Dream, and more
March 17, 2023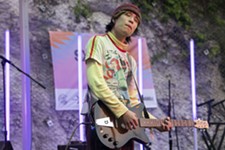 A primo Tiger Den showcase, iLe, Hermanos Gutiérrez, and more
March 16, 2023
More by Dan Gentile
A Margo Price keynote, Koffee's evolution, & Obongjayar's rising star
March 18, 2023
Despite storms, we caught 03 Greedo, Sobs, Tangerine Dream, and more
March 17, 2023
More by Michael Toland
Steam Down, Yazmin Lacey, and more spanned Afrobeat to retro R&B
March 16, 2023
ACL Live show brought in former clubgoers and curious newbies alike
March 14, 2023
KEYWORDS FOR THIS POST
SXSW Music 2023, Bartees Strange, Fair Pay at SXSW, Lemon Twigs, Spill Tab, Robert Krieger, Coco & Clair Clair, Bluebird Cafe, Bruce Robison, Liz Rose, Lee Thomas Miller, Pink Pantheress, Villano Antillano, Pigs Pigs Pigs Pigs Pigs Pigs Pigs
MORE IN THE ARCHIVES