SXSW Film Review: Long Shot
Rogen and Theron are charming in charmless political rom-com
Seth Rogen's patented brand of protracted-adolescence stoner comedy is the definition of hit (The Disaster Artist) or miss (the tediously juvenile Sausage Party). So it's an oddity that political rom-com Long Shot is neither here nor there.
Rogen plays Fred Flarsky, an undercover investigative journalist for a fictitious New York newspaper, out of a job after a takeover by an evil media baron (Andy Serkis, eschewing motion capture for a thick layer of prosthetics). Raw coincidence intervenes, as is the way with rom-coms, and back into his life wanders Charlotte Field (Charlize Theron), his old babysitter and now U.S. Secretary of State, who is gearing up for a presidential run and needs a speech writer.
To anyone expecting a political satire along the lines of the funnier episodes of The West Wing or even Guarding Tess – tough luck. This is more First Kid with added jizz jokes. It's a lumpy "opposites attract" love story that becomes a jet-setting romance, with the predictable conclusion to the question of whether these crazy kids can make it work.
The saving grace is the easy energy between Rogen and Theron, complimented by June Diane Raphael as Charlotte's scathing chief of staff and O'Shea Jackson Jr. as Fred's corner-office-executive friend. The supporting cast gets all the best lines, while the leads get most of their laughs from good-natured mugging.
But scrape past that, and Long Shot is a campaign without a clear platform. Director Jonathan Levine (who pushed Rogen to much more sympathetic heights with 50/50) seems content to let the formulaic, Sixties-style screwball antics play out exactly as expected. It's a little astounding that a comedy about electoral politics in 2019 has so little to say about how women candidates are treated. Charlotte never seems like a real office-holder, and if you weren't told that she's a policy wonk and an adept negotiator, there's nothing in the script to really show it. But then, Fred never seems like a journalist (not least due to being able to afford that huge loft in Brooklyn). They're just a pair of doofuses having fun, which makes for OK slapstick but annihilates any romantic tension – the lifeblood of any good rom-com. Moreover, Rogen's corny stoner-hipster schtick is definitely wearing thin; luckily, like Theron, he's capable of so much better.
---
Narrative Feature, Headliners, World Premiere
Saturday, March 9, 9:30pm, Paramount
A note to readers: Bold and uncensored, The Austin Chronicle has been Austin's independent news source for almost 40 years, expressing the community's political and environmental concerns and supporting its active cultural scene. Now more than ever, we need your support to continue supplying Austin with independent, free press. If real news is important to you, please consider making a donation of $5, $10 or whatever you can afford, to help keep our journalism on stands.
READ MORE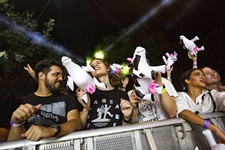 Federal program gave $130 million to over 100 local businesses
Rachel Rascoe, Oct. 22, 2021
Lucasfilm, Patreon, WWE all sending speakers for 2022
Richard Whittaker, Oct. 19, 2021
More by Richard Whittaker
Austinite Jay Jackson talks about Disney's latest animated blossom
Nov. 24, 2021
Ridley Scott is a bad fit for the tale of the fashion house's fall
Nov. 26, 2021
KEYWORDS FOR THIS POST
SXSW, SXSW Film 2019, SXSW 2019, Long Short, Charlize Theron, Seth Rogen
MORE IN THE ARCHIVES