SXSW TV Review: Krypton
First look at the Superman without Superman show
By Moisés Chiullán, 3:15PM, Sat. Mar. 17, 2018
New Syfy series Krypton takes us back in time not only before Superman's home planet was destroyed, but before his father was born. Following Seg-El (Superman's grandfather), it tells a grand scale story of an attempt to change history so that Superman (birth name Kal-El) is never born.
It opens on the trial of Superman's great-great-grandfather Val-El, who stands accused of treason. Seg-El , our lead, is only a child at this point. The House of El is stripped of its standing (or "rank") in Kryptonian society for furthering the idea that Krypton is not alone in the universe.
In just the opening minutes, the scale, scope, and intricate detail of the world of Krypton evokes the expensive, physically constructed sets of David Lynch's Dune. Krypton the world feels vivid and real, with a new angle on Superman's family legacy of struggle against authoritarianism. As a series, from the pilot alone it feels firmly planted, and invested for the long haul. The story of Seg-El (played as an adult by Cameron Cuffe) is thoroughly Arthurian, with him as an heir (and at once forebear) to a traditionally mythic legacy.
The biggest surprise throughout the pilot of Krypton is the aforementioned majority of practical, non-CG sets and locations used on a modern sci-fi cable show. All modern sci-fi or superhero TV series use CG, in many cases in place of the matte paintings and miniatures that were used in the days before computer-aided effects. This show, shot on soundstages in Belfast, has very intentionally inverted the proportion one expects, and as a result, the show feels expensive in that Syfy has invested in making the world of Krypton feel real and lived-in.
As a result, the planet Krypton itself is one of the most important characters in the show, and sets the stakes and expectations that this series has both feet planted and grounded in a real (albeit strange and alien to us) world. Krypton does have arcana and jargon of its own, but it's not remotely as obtuse as the enormous mythos dump at the outset of Lynch's Dune and other sci-fi films and series that set the bar to entry impossibly high.
The Krypton world premiere brought executive producer/showrunner Cameron Welsh to SXSW along with his three lead actors (Cuffe, Georgina Campbell as Lyta-Zod, Wallis Day as Nyssa-Vex). They heavily emphasized that, beyond familiar Superman iconography seen and heard in the pilot, the series digs deep across the entire DC multiverse, and is not bound by anything in the movies and other DC TV shows. Welsh promised longtime DC fans that the series will take viewers to Rann, the home planet of time-traveling co-star Adam Strange, as well as Thanagar, home world of Hawkman and Hawkgirl/Hawkwoman.
It's safe to assume that if you want to pick just one DC Comics Universe TV show to watch, this one contains a multiverse of its own rather than crossing over with and into other shows. Krypton has something for deep-cut Superman and DC fans to be sure, but its accessible approach to "hard sci-fi" might serve as a solid gateway to welcoming in fans looking for something big, ambitious, and unconventional in the age of Peak TV.
---
Episodic, World Premiere
A note to readers: Bold and uncensored, The Austin Chronicle has been Austin's independent news source for almost 40 years, expressing the community's political and environmental concerns and supporting its active cultural scene. Now more than ever, we need your support to continue supplying Austin with independent, free press. If real news is important to you, please consider making a donation of $5, $10 or whatever you can afford, to help keep our journalism on stands.
READ MORE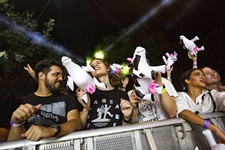 Federal program gave $130 million to over 100 local businesses
Rachel Rascoe, Oct. 22, 2021
Lucasfilm, Patreon, WWE all sending speakers for 2022
Richard Whittaker, Oct. 19, 2021
More by Moisés Chiullán
Austin's newest comic and film convention leaps into action
June 15, 2018
Austin author adapts his Spielberg homage Ready Player One with Spielberg himself
March 30, 2018
KEYWORDS FOR THIS POST
SXSW Film 2018, SXSW 2018, SXSW, Krypton, DC, Superman
MORE IN THE ARCHIVES