SXSW Music Live: Big Thief
Day party robbed by Masterpiece maker Adrianne Lenker!
By Libby Webster, 11:30AM, Sun. Mar. 19, 2017
Despite unforgiving Austin sunshine beating down all day Saturday, throngs of people packed the inside and outside of Cheer Up Charlies. The Lost Weekend day parties, pulled together by BrooklynVegan and the local Sound on Sound Fest – replacement for Fun Fun Fun Fest – closed its three-day for brave souls needing to squeeze in six more hours of music.
Inside performance standout came from L.A.'s Death Valley Girls tearing apart the stage with hypnotic, psychedelic, desert rock played fast and loose. In the muggy, crowded room, thick with sweat and spilled beer, frontwoman Bonnie Bloomgarden proved captivating with her piercing wail, particularly when screaming her way through garage-rock cacophony "Death Valley Boogie."
Outside, Brooklyn fourpiece Big Thief slayed – surprisingly. The band's debut, Masterpiece, came out last year on Saddle Creek Records and skews more folk and lo-fi, a slow-burn. It's a solid album, restrained and sleepy; well-crafted songs and smart writing, but guitarist/vocalist Adrianne Lenker's pretty voice feels on display for its range and delicacy rather than for the sake of making any emotional connection with the listener.
Live, any trace of politeness from the Masterpiece tracks dissipated. The 3pm set on the outside stage served up a loud, electrified, captivating 40 minutes devoid of earnest folksiness. Lenker's voice broke and wavered regularly as she crooned her way through every song, from nostalgic heartbreak soliloquy "Paul" to the dark portrait of domestic abuse painted in "Real Love."
Big Thief's live set breathed new life into the devastation, hurt, and lovesickness that thrum quietly on the studio work, imbuing the songs with the raw emotion sometimes missing on the LP. It translates better with a messier rock & roll sound, and Big Thief's Saturday set served as a peek at their musical evolution.
Keep up with all our SXSW coverage at austinchronicle.com/sxsw.
READ MORE
More SXSW
Plus Teen Vogue, The Daily Show, and Charlie Rose
Richard Whittaker, Aug. 30, 2017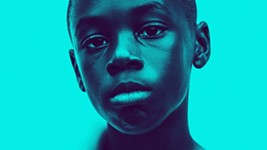 Oscar-winner Barry Jenkins part of first speaker list for 2018
Richard Whittaker, July 24, 2017
More by Libby Webster
Mardi Gras in Zilker Park!
Oct. 16, 2017
Electro-pop Brits thunder
Oct. 15, 2017
KEYWORDS FOR THIS POST
Big Thief, SXSW, SXSW Music 2017, Brooklyn Vegan, Sound on Sound, Death Valley Girls
MORE IN THE ARCHIVES