SXSW Music Live: Spoon Nite 3
Local heroes split the difference between the first two nights
By Tim Stegall, 2:30PM, Fri. Mar. 17, 2017
Meanwhile, back at Eno's on Thursday night for the finale of Spoon's three-night album release celebration, the floor looked rather bare as San Marcos garage/grunge outfit the Two Lips unleashed a well-manicured racket saturated in fuzz box hysteria.
Once My Jerusalem's arty noir rock with a dash of glam hit the stage, there were at least as many onlookers to egg on these stylish locals as you saw in your most recent NatGeo documentary on ant colonies. My Jerusalem also entered into a key demographic for this stand: bands with an auxiliary musician handling keyboards, guitar, percussion, cheerleading.
Local wunderkind Walker Lukens unleashed funk-pop so steeped in prog it's hard to imagine anyone dancing to it. Dance they did, however, proving oral percussion samples can make butts shake as hard as a truckload of James Browns.
After getting an introduction from Mayor Steve Adler, Sweet Spirit mostly previewed tunes from their forthcoming sophomore LP, sprinkling in a handful of their debut's New Wave party anthems amidst a hard, glam-rock opener and soul-inflected cuts heaving heavy drama.
By this point, there wasn't a square inch of empty real estate in the house.
After a solo set from the evening's surprise special guest, ex-Walkmen guiding light Hamilton Leithauser, it was star time. Spoon split the difference between Tuesday's deep cuts and Wednesday's hits-n-crowd-pleasers approach, sandwiched between the same four excerpts from the new Hot Thoughts LP.
Also linking all three nights was a newfound penchant for performing within haze/shadows/silhouettes, be it the mostly backlit staging thick with dry ice fog or soundman Jeff Byrd's dubwise live mix. Clearly as much a musical element as the instrumentation or arrangements, frontman Britt Daniel's vocal phrasing played off Byrd's spontaneous bursts of echo and reverb.
The effect is less a sound mix and more a production of the live sound, a wholly unique approach. It's all of a piece with Spoon's vibrant creativity.
Keep up with all our SXSW coverage at austinchronicle.com/sxsw.
READ MORE
More Spoon
Homegrown indie rock heroes enter Tom Petty territory
Abby Johnston, Oct. 15, 2017
Two nights down, one to go
Tim Stegall, March 16, 2017
More SXSW
Plus Teen Vogue, The Daily Show, and Charlie Rose
Richard Whittaker, Aug. 30, 2017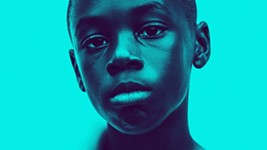 Oscar-winner Barry Jenkins part of first speaker list for 2018
Richard Whittaker, July 24, 2017
More by Tim Stegall
Fuck You, You Rule: ST 37's Greatest "Hits" (Record Review)
Oct. 20, 2017
Oct. 13, 2017
KEYWORDS FOR THIS POST
Spoon, SXSW, SXSW Music 2017, Britt Daniel, Two Lips, My Jerusalem, Sweet Spirit, Walker Lukens, The Walkmen, Hamilton Leithauser
MORE IN THE ARCHIVES