SXSW Music Live: Solange
Soft, vulnerable, and in control
By Abby Johnston, 12:25PM, Thu. Mar. 16, 2017
When her big sister sat down with her in January for Interview magazine, Solange Knowles explained her soft, clear tonality on recent Grammy winner A Seat at the Table. "It was very intentional that I sang as a woman who was very in control, a woman who could have this conversation without yelling and screaming," she told Beyoncé.
"Because I still often feel that when black women try to have these conversations, we're not portrayed as in control, emotionally intact women capable of having the hard conversations without losing that control."
Even in the chaos of Wednesday night's SXSW showcase at Copper Tank, Solange translated the album's aesthetic into a measured but powerful performance.
Solange and her sixpiece band, plus two backup singers, took the stage decked in baby blue. After the smooth R&B warmup of "Rise" and "Weary," first two tracks on A Seat at the Table, the drums snapped "Cranes in the Sky" to life. Solange's pristine and agile soprano led her backups through entrancing Motown girl-group falsetto harmonies, punctuated by a petite brass section that filled in around the vocal play toward the end.
Heavy on A Seat at the Table material, the precisely 60-minute set offered up a few singles from her sparse, decadelong recording career. "Some Things Never Seem to Fucking Work" pulsed an Eighties-style bassline as Solange and her singers danced in tandem, and the R&B-inspired "T.O.N.Y.," from 2008's Sol-Angel and the Hadley St. Dreams, spotlighted Solange's vocal flourishes.
Even as she boogied with increasing abandon on A Seat at the Table's "Don't Touch My Hair," Solange kept her softness and vulnerability. And control.
Keep up with all our SXSW coverage at austinchronicle.com/sxsw.
READ MORE
More Solange
Lineup sticks to the formula
Kevin Curtin, May 4, 2017
Thomas Fawcett, March 17, 2017
More SXSW
Plus Teen Vogue, The Daily Show, and Charlie Rose
Richard Whittaker, Aug. 30, 2017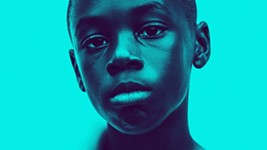 Oscar-winner Barry Jenkins part of first speaker list for 2018
Richard Whittaker, July 24, 2017
More by Abby Johnston
Corpus Callosum (Record Review)
Aug. 18, 2017
Deborah Harry and Shirley Manson thrash and bellow
Aug. 14, 2017
KEYWORDS FOR THIS POST
SXSW, SXSW Music 2017, Solange, Beyoncé
MORE IN THE ARCHIVES