SXSW Music Live: Spoon Nite 1
ATX brand grooves like Prince
By Tim Stegall, 2:15PM, Wed. Mar. 15, 2017
By the time Tuesday evening's line to get into the Main – rebranded Eno's through Thursday in honor of its former incarnation as Emo's and Spoon drummer Jim Eno – allowed entry, Austin's Bright Light Social Hour were neck-deep in the lysergic emanations of the Beatles' Tibetan Book of the Dead rewrite, "Tomorrow Never Knows."
Their final song, an original, so resembled Bad Company's self-titled anthem, one expected Paul Rogers to come in on cue. Still, a better psychedelic stew would be hard to find in a modern-day Austin awash with neo-psych bands.
A Giant Dog couldn't help but wrap the crowd around its collective pinky with clever punk rock and Sabrina Ellis' off-kilter charisma. Strutting onstage in a red one-piece, hooded leotard and cowboy boots to recent LP Pile's opening blast, "Creep," the singer looked like Little Red Riding Stripper. She later parodied her live penchant for shock by reading a letter supposedly from Spoon's management begging her not to piss the stage.
Playing selections from across their three-LP catalog but focusing mostly on Pile, the canines hammered like one giant rhythm guitar and snare drum locked in step, Graham Low's thick bass ruling. A Giant Dog rocks like the Damned, yet evince Sparks-like quirk, especially when whipping out a blazing rendition of the latter's techno-pop hit "Angst in Your Pants." Hear it on their next LP, due on Merge Records in August.
After surprise special guests the New Pornographers laid out a brief set of bright, sunny, New Wave-y pop, indie queen Neko Case hiding behind a keyboard, the evening's hosts finally appeared.
Playing mostly deep cuts and previewing four tunes from the new Hot Thoughts, the Nineties-born Austin phenomenon demonstrated there isn't really a Spoon sound per se. Many songs, such as the new album's title cut, rode slinky sex-funk grooves like Prince is the only artist that matters. Some tunes took on an angsty sheen that suggests Britt Daniel owns many a Cure album.
Mostly, the group relied on Eno's Ringo-Bonham drum smashing, guitars used in atypical fashion, bursts of atonality including free jazz dissonant keyboard cluster chords, and just an overall guiding musical intelligence. They were treated like conquering heroes by the crowd, and deservedly so. Spoon remains the most individualistic unit indie Austin has to offer.
Keep up with all our SXSW coverage at austinchronicle.com/sxsw.
READ MORE
More Spoon
Local heroes split the difference between the first two nights
Tim Stegall, March 17, 2017
Two nights down, one to go
Tim Stegall, March 16, 2017
More SXSW
Plus Teen Vogue, The Daily Show, and Charlie Rose
Richard Whittaker, Aug. 30, 2017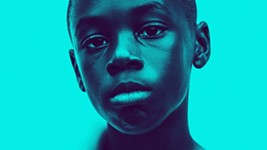 Oscar-winner Barry Jenkins part of first speaker list for 2018
Richard Whittaker, July 24, 2017
More by Tim Stegall
Aug. 25, 2017
Let's Do This Thing! (Record Review)
Aug. 18, 2017
KEYWORDS FOR THIS POST
Spoon, SXSW, SXSW Music 2017, Bright Light Social Hour, A Giant Dog, Sabrina Ellis, Neko Case, New Pornographers, Britt Daniel, Jim Eno, Bad Company, Prince
MORE IN THE ARCHIVES