SXSW Film Review: Porto
Anton Yelchin's heartbreaking final performance
There is a shadow and a tragedy hanging over Porto. The tragic early death of Anton Yelchin adds poignancy to an already heartbreaking tale of tragic love, while re-enforcing that he was on the cusp of being one of the most extraordinary actors of his generation.
At first sight, Jake (Yelchin) is an unlikely romantic lead. An American abroad, balding, slouch-shouldered, seemingly decades older than his 26 years. Its's only around Mati (Lucie Lucas), a French archaeologist similarly washed up in the Portugeuse city of Porto, that he comes alive, and she with him. But in this three-chaptered, tri-lingual drama, time flips back and forth, revealing different and sometimes ugly truths about their relationship.
Originally conceived for Athens, the banking collapse forced a transfer of location across the Mediterranean. Honestly, that's to the film's benefit. A sun-drenched Greek romance would have less emotional heft than the drizzling, grey-flecked timelessness and signature ceramics of the ancient Atlantic coastal city. Cinematographer Wyatt Garfield captures its weather-worn resilience and beauty without dropping into postcard cliches.
Wyatt also catches the inner mechanics of the pair's love-lorn crossings, switching formats and aspect ratio to infer intimacy and loss. It reflects the shifting perspective of the script by long-time Walter Hill collaborator Larry Gross (48 Hours, Streets of Fire) and director Gabe Klinger (Double Play: James Benning and Richard Linklater), which tells the story from the differing angles of Jake, Mati, and the pair combined.
What they achieve is an extraordinary and delicate depiction of a fleeting passion, one so wrenchingly deep and untenable that it explains the emotional crimes both commit. They also found a rare, sometimes graphic, and yet delicate energy between Lucas and Yelchin that touches on the most tender and incisive heights of each crest of the European New Wave.
Of course, this will be seen as Yelchin's swan song, but it is so much more than that. This is a remarkable and tender romance curtailed, broken by character flaws, yet one that leaves the audience still in love with the protagonists, in all their fractured ways.
---
Visions
North American Premiere
Tuesday, March 14, 9:15pm, Alamao Lamar
Friday March 17, 5pm, Alamao Ritz
A note to readers: Bold and uncensored, The Austin Chronicle has been Austin's independent news source for almost 40 years, expressing the community's political and environmental concerns and supporting its active cultural scene. Now more than ever, we need your support to continue supplying Austin with independent, free press. If real news is important to you, please consider making a donation of $5, $10 or whatever you can afford, to help keep our journalism on stands.
READ MORE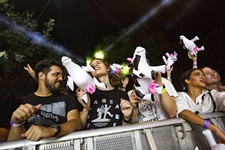 Federal program gave $130 million to over 100 local businesses
Rachel Rascoe, Oct. 22, 2021
Lucasfilm, Patreon, WWE all sending speakers for 2022
Richard Whittaker, Oct. 19, 2021
More by Richard Whittaker
Tom Putnam talks Insane Clown Posse's First Amendment fight
Oct. 26, 2021
AFf documentary short tackles girls breaking into football
Oct. 26, 2021
KEYWORDS FOR THIS POST
SXSW 2017, SXSW, SXSW Film, SXSW Film 2017, Anton Yelchin
MORE IN THE ARCHIVES