SXSW Film Keynote: Lee Daniels
#oscarsnotsowhiteafterall
By Marc Savlov, 12:45PM, Mon. Mar. 13, 2017
If the American dream is alive and, well, temporarily tarnished, tattered, and black, white, and red all over, don't look to the Oscar-nominated Daniels for all that much sympathy.
The producer of 2001's staggering indie Monster's Ball and more recently the director of Lee Daniels' The Butler may have been born in southwest Philly's meanest of streets, yet his ascent to the top of the Hollywood food chain seems in retrospect all but inevitable. This despite the moviemaking business' godawful record regarding African-Americans, much less fearlessly queer ones.
"I grew up in what they, at that point, would call the ghetto, the projects," Daniels explained, extemporizing on the fly and frequently falling silent as he gathered his thoughts. "I didn't know what poverty was because when you're in it, you don't know anything but it. What you do know is that you are unaware of the fragility of life, in that you see friends killed in front of you from a very young age. That's the America I know. That's the America I understand. To watch your friends, at 6-years-old, shot, and to dodge the bullets, literally."
Daniels' life story - thus far - turns out to be every bit as emotionally gripping as any of the films he's been involved with, in whatever capacity. (2009's Precious comes to mind.) Recounting his youth in borderline confessional detail, Daniels spoke of his life with a sometimes violent police officer father ("He was an amazing poet … but he wanted me to be a lawyer."), the lure of easy, street-corner money, and [when he was in eighth grade, his mom recognized] "that if I didn't get out of that environment, then something bad was going to happen. I come from a family of drug dealers because that is the way African-Americans, at least the ones that I grew up with, were making a living. And that's the America that I am proud of because it has made me the man I am."
An early interest in drama and the beneficence of family and friends led to only enough money for one year of college for Daniels at Lindenwood University in St. Charles, Mo. Of the experience, Daniels recalls: "I wasn't really getting much out of college. I didn't understand what it was about and anything that I learned, I knew that I had instinctively learned it already from the street."After a wildly successful stint managing a home care nursing agency while directing theatre on the side, Daniels eventually started his own home care company in 1981, noting that "It's no different from pimping - you charge $25 for the nurse and you pay the nurse $15." The business eventually made "a million dollars in a year" and although the then-23-year-old director-to-be was still uncertain about his future, he finally landed at Warner Bros. as a production assistant on Purple Rain before becoming a producer on Monster's Ball.
"Maybe I don't understand the Oscars hashtag 'so white,' Daniels said. "But I'm really trying to understand it. I paved my own way … and I believe we've created a generation, at least my kids, that feels entitled. I have had to fight for everything, and nobody owes me anything. I believe no one in this room owes me anything, and no one in Hollywood owes me anything. I owe me something.
"I'm a 57-year-old dad who watched my father being called a nigger and watched him cry, so I know firsthand that racism is real in America and is real in Hollywood. But I'm not going to let it define me or stop me from what it is I have to do."
Keep up with all our SXSW coverage at austinchronicle.com/sxsw.
READ MORE
More SXSW 2017
Director Ben Young on his serial-killer couple drama
Richard Whittaker, May 12, 2017
Director on making his U.S. action debut
Richard Whittaker, April 21, 2017
More SXSW
Plus Teen Vogue, The Daily Show, and Charlie Rose
Richard Whittaker, Aug. 30, 2017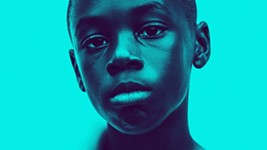 Oscar-winner Barry Jenkins part of first speaker list for 2018
Richard Whittaker, July 24, 2017
More by Marc Savlov
Jennifer Lawrence on the brink of madness
Sept. 22, 2017
Ben Stiller shines in this character study
Sept. 22, 2017
KEYWORDS FOR THIS POST
SXSW, SXSW 2017, SXSW Film 2017, Lee Daniels
MORE IN THE ARCHIVES