SXSW Panel: Face Your Fears
First look at Annabelle 2 and It
There were ghosts in the machine for this preview of two of the year's tentpole horrors. After technical issues, Andrés Muschietti revealed a specially-cut teaser and first footage from his new version of Stephen King's It, while David F. Sandberg showed the first scenes from his addition to The Conjuring-verse, Annabelle 2.
There was also a little professional wisdom from Sandberg: If you want to break into horror films, make your own shorts. That's good advice, considering his own back catalogue includes the mini-version of "Lights Out," which he recently fleshed out to feature length before being handed the keys to James Wan's ever-expanding possessed doll franchise.
In the two clips he screened, Sandberg showed his new direction for Annabelle 2 (ETA Aug. 11), which he noted is not a straightforward successor to the 2014 Rosemary's Baby-inspired original. Instead, the action is moved to a creepy home in the desert (recognizable to Westworld watchers as Dolores Abernathy's home), where a group of orphaned girls have been left to the tender mercies of an old couple with a sealed-up bedroom. Turns out, it was sealed for a reason, and that's Annabelle.
Or rather, an Annabelle. Sandberg noted that the design has been softened a little bit, as the original self-motivated porcelain horror was so creepy-looking that it was hard to imagine that any child would want her as a plaything. (Plus, a toy-related coincidence: a child of late Eighties, early Nineties horror, Sandberg name-checked the Child's Play series as one of his big formative influences.)
It's also hard to imagine that anyone would want to play with Pennywise, the eponymous It. The shadow of Tim Curry's nightmare-inducing turn as the sewer-dwelling clown from the 1990 TV miniseries hangs long over this new adaptation. The initial response to the more harlequinesque design for this new version (due Sept. 8) has been tepid to say the least. However, the teaser showed off Bill Skarsgård (of Netflix's Hemlock Grove) in full creeping-crawling-vibrating action, and that alone did a lot to placate any fears that he will not be terrifying enough.
Moreover, Muschietti just got the thumbs up from King himself for his adaptation, which he described as "something to brag about."
His teaser clarified a lot about the project (as did Muschietti himself, who put to bed the rumor that he's filming It Part 2 later this month). First, the story has been moved forward, so the scenes with the young Losers Club shifts from the Fifties to the Nineties. Muschietti also described their plot as "getting much wider," with new material not in the book or the 1990 TV version.
However, Muschietti said he hoped it would still strike the same emotional resonance that the book did for him when he first read it. "It's all about trying to hit the core and the heart."
But how are the scares? At first glimpse, Annabelle 2 seems to be a little more mood-heavy than the first, with some heavy CG and some quality jump-scares. The standout from the It footage was the ingenious use of a slide carousel, which may be the best projection-related shock since Sinister's home movies.
---
Saturday, March 11, Austin Convention Center
Keep up with all our SXSW coverage at austinchronicle.com/sxsw.
READ MORE
More SXSW
Plus Teen Vogue, The Daily Show, and Charlie Rose
Richard Whittaker, Aug. 30, 2017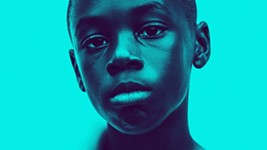 Oscar-winner Barry Jenkins part of first speaker list for 2018
Richard Whittaker, July 24, 2017
More SXSW Film
Director Ben Young on his serial-killer couple drama
Richard Whittaker, May 12, 2017
Director on making his U.S. action debut
Richard Whittaker, April 21, 2017
More by Richard Whittaker
Is expanding the Convention Center a smart investment?
Sept. 22, 2017
Sept. 22, 2017
KEYWORDS FOR THIS POST
SXSW, SXSW Film, SXSW 2017, It, Anabelle 2, David F. Sandberg, Stephen King, Andrés Muschietti
MORE IN THE ARCHIVES