SXSW Film Review: Sweaty Betty
A dog, two single dads, and a 1,000-pound pig
By Josh Rosenblatt, 5:00PM, Sun. Mar. 15, 2015
Your giant star-filled headliners and big-name Hollywood premieres are all well and good, but the heart and soul of any film festival are the little movies off to the side of the action, the ones with actors and writers and directors you've never heard of taking you inside a world you may never have even known was there.
Shot on what seems to be an old camcorder in the lower-middle-class Prince George's suburbs just outside Washington, D.C., Joseph Frank and Zachary Reed's Sweaty Betty is the definition of the modest festival hopeful, a semi-improvised snapshot of life, taking as its actors the untrained members of the community and finding narrative in the simple beats of the everyday and the common (as common, anyway, as a story about a dog, two single fathers, and a 1,000-pound pig can be). The results blur the lines between narrative, documentary, and home movies and give the film its own idiosyncratic rhythm. What it lacks in technique or know-how, Sweaty Betty makes up for in heart and unfiltered artistic optimism.
---
Sweaty Betty
Narrative Competition, World Premiere
Monday, March 16, 7:15pm, Rollins
Thursday, March 19, 10:30pm, Alamo Slaughter
---
Keep up with all our dispatches from SXSW at austinchronicle.com/sxsw.
Keep up with all our SXSW coverage at austinchronicle.com/sxsw. For scheduling on the go, here's a SXSW Film Pocket Guide, which includes the handy Film Grid. Sign up for our South-by-specific newsletter at austinchronicle.com/newsletters/ for news, reviews, and previews delivered to your inbox every day of the Fest. And for the latest Tweets, follow @ChronSXSW.
READ MORE
More SXSW Film
Director Ben Young on his serial-killer couple drama
Richard Whittaker, May 12, 2017
Director on making his U.S. action debut
Richard Whittaker, April 21, 2017
More SXSW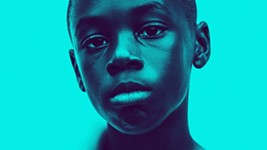 Oscar-winner Barry Jenkins part of first speaker list for 2018
Richard Whittaker, July 24, 2017
Choose life. Choose a sequel. Choose director Danny Boyle.
Richard Whittaker, March 24, 2017
More by Josh Rosenblatt
Swedish doc looks into the war between wheels
March 16, 2015
Still anonymous, the Residents let the fans speak for them
March 14, 2015
KEYWORDS FOR THIS POST
SXSW Film, SXSW, Sweaty Betty, SXSW Film 2015, Zachary Reed, Joseph Frank
MORE IN THE ARCHIVES