SXSW Launches Streaming Platform
Festival programming and original content comes to SXSW On
By James Renovitch, 10:00AM, Tue. Mar. 10, 2015
With thousands of bands, hundreds of movies, and a zillion (or so) "thought leaders" in town, it's hard to imagine that there isn't something at SXSW for everyone. But the badges are pricey, the crowds can be overwhelming, and Austin's usual parking woes are turned up to 11. What's an interested homebody to do?
SXSW On is prepped to fill that need. If you have the Internet, you have access to live panels and interviews from this year's fest, archival content, original programming, and more all streamed to your Roku player or to your computer at sxsw.com/on.
Three original shows are already slated:
•SXSW Live: Panels, performances, interviews, and more from the many experts and creatives that litter the festival.

•The Road: Cameras follow bands and musicians around to convey a sense of life on the road. We assume it will be more than just hipsters playing Candy Crush in a van hoping they won't have Taco Bell for dinner again.

•The Nom Nom: This unfortunately named show features artists and taste-makers sharing their favorite restaurants. Additionally chefs from across the country will sit down with up-and-coming restaurants.
Despite popular opinion in town, not everyone lives in Austin. For those unfortunate souls, SXSW On is a nice consolation prize.
A note to readers: Bold and uncensored, The Austin Chronicle has been Austin's independent news source for almost 40 years, expressing the community's political and environmental concerns and supporting its active cultural scene. Now more than ever, we need your support to continue supplying Austin with independent, free press. If real news is important to you, please consider making a donation of $5, $10 or whatever you can afford, to help keep our journalism on stands.
READ MORE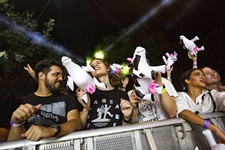 Federal program gave $130 million to over 100 local businesses
Rachel Rascoe, Oct. 22, 2021
Lucasfilm, Patreon, WWE all sending speakers for 2022
Richard Whittaker, Oct. 19, 2021
More by James Renovitch
The judges and fest attendees have tasted and spoken
Sept. 12, 2021
Tickets are on sale now and will go fast!
Nov. 13, 2020
KEYWORDS FOR THIS POST
MORE IN THE ARCHIVES