SXSW Live Shot: Against Me!
Against Me! at Spin Magazine day party, Stubb's
By Claire Gordon, 8:50PM, Sat. Mar. 15, 2014
Laura Jane Grace, frontwoman of Against Me!, wears a lot of hats these days. Already a punk rock stalwart, her journey as a trans woman has put her firmly on the frontlines of LGBTQ rights, awareness, and education.
After being a guest at the Noncomformists panel, where she shared the stage with Big Freedia and Sharon Needles, Grace arrived at the Spin Magazine Day Party at Stubb's with barely 15 minutes to spare before Against Me! were set to take the stage.
Opening with "FuckMyLife666" from Transgender Dysmorphia Blues, Against Me! played a blistering half hour set, barely leaving themselves breathing room between songs. Striking a balance between old classics as well as new favorites, "New Wave" and "I Was a Teenage Anarchist" were followed by "Black Me Out." Each successive song pulled more people away from their phones and into the sheer joyous energy of watching such a charismatic, powerful band perform.
Grace has a voice that is simultaneously melodic and powerful; even her screams sound musical. Combined with James Bowman on guitar, Inge Johansson (from the legendary Swedish punk band, Refused) on bass, and Atom Willard (Rocket from the Crypt, the Offspring, among others) on drums, Against Me! are an explosive live band.
It's not easy to cut through the noise that accompanies SXSW, where folks spend more time checking to see what's happening next than paying attention to the band in front of them. It's a testament to the intensity and quality of Against Me! that phones were put away and all eyes were focused stage front.
After the show, more than a few members of the audience were making note of the band's name. During a festival dedicated to connecting people to new music, there is no better compliment than that.
Keep up with all our SXSW coverage at austinchronicle.com/sxsw.
READ MORE
More SXSW
Plus Teen Vogue, The Daily Show, and Charlie Rose
Richard Whittaker, Aug. 30, 2017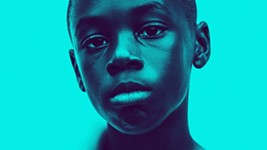 Oscar-winner Barry Jenkins part of first speaker list for 2018
Richard Whittaker, July 24, 2017
More South by Southwest
David Chang announced as featured speaker
Brandon Watson, Sept. 30, 2014
'Honeymoon' and 'Thank You a Lot' picked up
Monica Riese, March 28, 2014
More by Claire Gordon
Registration for the Thong Jog kicks off in high style
May 9, 2014
Gala raises awareness and funds for Central Texas Bee Rescue
April 18, 2014
KEYWORDS FOR THIS POST
SXSW, South by Southwest, against me, Laura Jane Grace, Spin Magazine Day Party, Stubbs
MORE IN THE ARCHIVES