SXSW Film Announces Audience Award Winners
Catch them all before they're gone
By Monica Riese, 1:45PM, Sat. Mar. 15, 2014
The jury awards have been out for days, but here, the people have spoken.
Congrats to all the winners.
SXSW Film 2014 Audience Award Winners
Narrative Feature Competition: Before I Disappear
Director: Shawn Christensen Stateside, 6:30pm
Episodic: Silicon Valley
Director: Mike Judge
Vimeo, 7pm
SXGlobal: The Special Need
Director: Carlo Zoratti
Alamo Ritz, 7pm
Documentary Spotlight: DamNation
Directors: Ben Knight, Travis Rummel
Topfer, 7pm
Documentary Feature Competition: Vessel
Director: Diana Whitten
Stateside, 9:15pm
Festival Favorites: The Case Against 8
Directors: Ben Cotner and Ryan White
Vimeo, 9:30pm
Visions: Yakona
Directors: Anlo Sepulveda and Paul Collins
Alamo Ritz, 9:30pm
Narrative Spotlight: Cesar Chavez
Director: Diego Luna
Topfer, 9:30pm
Midnighters: Exists
Director: Eduardo Sánchez
Alamo Ritz, Midnight
Excellence in Poster Design: Big Significant Things
Designer: Corey Holmes
Excellence in Title Design: True Detective
Designer: Patrick Clair for Elastic
---
Keep up with all our dispatches from the Festival at austinchronicle.com/sxww.
Keep up with all our SXSW coverage at austinchronicle.com/sxsw.
READ MORE
More South by Southwest
David Chang announced as featured speaker
Brandon Watson, Sept. 30, 2014
'Honeymoon' and 'Thank You a Lot' picked up
Monica Riese, March 28, 2014
More SXSW
Plus Teen Vogue, The Daily Show, and Charlie Rose
Richard Whittaker, Aug. 30, 2017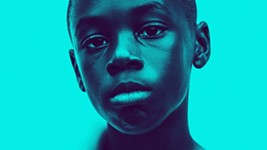 Oscar-winner Barry Jenkins part of first speaker list for 2018
Richard Whittaker, July 24, 2017
More by Monica Riese
Paramount and Stateside programming heats up
April 3, 2014
Announcements from the Austin Film Society
April 2, 2014
KEYWORDS FOR THIS POST
South by Southwest, SXSW, SXSW 2014, SXSW Film 2014, Yakona, Before I Disappear, Silicon Valley, The Special Need, DamNation, Vessel, The Case Against 8, Cesar Chavez, Exists, Big Significant Things, True Detective
MORE IN THE ARCHIVES