SXSW Film Review: 'Among the Living'
'Stand by Me' and then die by me
By Marc Savlov, 4:12PM, Thu. Mar. 13, 2014
Alexandre Bustillo and Julien Maury have been hard at work redesigning what it means to be a French horror film.
Starting with 2007's gory, housebound nightmare Inside which was followed by 2011's equally chilling Livid, Bustillo and Maury have essentially created a trilogy with this year's Among the Living. Taken together, the films are a handy primer on the evolving state of France's nouveau guignol cinema, and this newest offering is a bloody good capstone, by turns sublime, comical, and chilling in the blackest sort of way.
Among the Living, in which three adolescent boys slowly discover their otherwise placid, rural community hides myriad horrors behind its otherwise banal facade, is a joy to watch (even when you're viewing it from behind your own splayed fingers). Cinematographer Antoine Sanier completely nails the small-town atmosphere while setting up some truly dazzling reveals. Bustillo and Maury's film is also something of a homage to the American films they grew up watching, chief among them Stand by Me, The Texas Chain Saw Massacre, John Carpenter's Halloween, E.T., and The Goonies. (And for Fifties-era exploitation completists, there's also a passing reference to Roger Corman's The Wasp Woman.)
The three young protagonists play out their days bitching about school and the usual teen tiny-tantrums, but they always have the option to flee to Blackwood Studios, a long-forgotten film set hidden away in the backwoods complete with faux western buildings, and a snatch of soundtrack that sounds as if it were lifted straight from Sergio Leone's most mournful of gritty leitmotifs. It's a wonderful, totally believable slice of meta-commentary on kids and the movies they love (or grow to love, if, indeed they get to grow up at all). As one of the characters puts it, "Life is a movie, my darling, and you are the star." Oui, c'est vrai.
---
Among the Living
Midnighters, World Premiere
Friday, March 14, 11:59pm, Alamo Ritz
Keep up with all our SXSW coverage at austinchronicle.com/sxsw.
READ MORE
More South by Southwest
David Chang announced as featured speaker
Brandon Watson, Sept. 30, 2014
'Honeymoon' and 'Thank You a Lot' picked up
Monica Riese, March 28, 2014
More SXSW
Plus Teen Vogue, The Daily Show, and Charlie Rose
Richard Whittaker, Aug. 30, 2017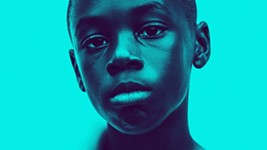 Oscar-winner Barry Jenkins part of first speaker list for 2018
Richard Whittaker, July 24, 2017
More by Marc Savlov
Account of the informant who brought down Nixon's administration
Oct. 20, 2017
Supreme Court judge biopic has bite
Oct. 13, 2017
KEYWORDS FOR THIS POST
South by Southwest, SXSW, SXSW 2014, SXSW Film 2014, Among the Living, Midnighters, narrative, review, Julien Maury, Alexandre Bustillo, Anne Marivin, Beatrice Dalle, Francis Renaud
MORE IN THE ARCHIVES