SXSW Film Review: 'The Great Invisible'
The Deepwater Horizon oil spill has exacted a human toll
When the Deepwater Horizon oil rig exploded in the Gulf of Mexico on April 20, 2010, filmmaker Margaret Brown sprang into action. The Alabama-born, Austin-based filmmaker must have instantly realized that this was her story to tell.
Having won a prestigious Peabody Award for her previous documentary, The Order of Myths, Brown was in a good position to quickly mobilize funds to start filming the explosion's effect on the Alabama shores of her youth. Nearly three years later, The Great Invisible is the completed result of her work.
This film examines the human toll exacted by this calamity. The Great Invisible does not seek scientific explanations for what occurred or an excoriation of the oil industry. Instead, it looks at the fallout of the disaster on the people whose livelihoods are dependent on the Gulf – a large, disparate group that includes everyone from oil executives to oyster fishermen and cannery workers. One of the the recurrent figures throughout the film is a food-bank worker whose observations about the new normal are heartbreaking. Brown's access to home videos taken on the rig prior to the explosion also lend a haunting sense of the lives lost in the offshore explosion. Ultimately, the documentary argues for a comprehensive national energy policy.
See our interview with the filmmaker here.
---
The Great Invisible
Documentary Competition, World Premiere
Wednesday, March 12, 11am, Paramount
Keep up with all our SXSW coverage at austinchronicle.com/sxsw.
READ MORE
More South by Southwest
David Chang announced as featured speaker
Brandon Watson, Sept. 30, 2014
'Honeymoon' and 'Thank You a Lot' picked up
Monica Riese, March 28, 2014
More SXSW
Plus Teen Vogue, The Daily Show, and Charlie Rose
Richard Whittaker, Aug. 30, 2017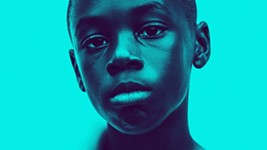 Oscar-winner Barry Jenkins part of first speaker list for 2018
Richard Whittaker, July 24, 2017
More by Marjorie Baumgarten
Dispatches from the couch
Oct. 20, 2017
Oct. 20, 2017
KEYWORDS FOR THIS POST
South by Southwest, SXSW, SXSW 2014, SXSW Film 2014, The Great Invisible, BP, oil spill, Margaret Brown, documentary, Gulf of Mexico, Alabama, fishing, big oil
MORE IN THE ARCHIVES