SXSW Film Review: 'Before I Disappear'
Shawn Christensen turns Oscar-winning short 'Curfew' into a feature
By Neha Aziz, 5:23PM, Tue. Mar. 11, 2014
The smallest action can have the biggest effect.
The atmosphere is melancholic and glum. Richie (Shawn Christensen) is at his dead-end job cleaning toilets, but when he opens the fourth bathroom stall, instead of an icky mess from the previous night, we see an ethereal woman who overdosed on heroin. Next scene, he is in a bathtub soaking in a pool of his own blood. "I felt a closer connection to the dead girl on the toilet seat than the live people around her," he says using voiceover narration. Richie then gets a frantic phone call from his estranged sister (Emmy Rossum) asking him to pick up her daughter (Fatima Ptacek) from school. He agrees. And so begins this dark tale of depression, drugs, and loneliness mixed with an occasional dose of pleasantness.
Before I Disappear does an excellent job with lighting and camerawork, perfectly capturing the tone for the film. However, Richie's story never really veers from the standard down-in-the-dumps narrative milieu. For a film focusing on the trials of human emotions, I wanted it to go just a little deeper.
---
Before I Disappear
Narrative Competition, World Premiere
Friday, March 14, 4:15pm, Stateside
A note to readers: Bold and uncensored, The Austin Chronicle has been Austin's independent news source for almost 40 years, expressing the community's political and environmental concerns and supporting its active cultural scene. Now more than ever, we need your support to continue supplying Austin with independent, free press. If real news is important to you, please consider making a donation of $5, $10 or whatever you can afford, to help keep our journalism on stands.
READ MORE
From retro horror to COVID survival, the best of the fests
Richard Whittaker, Jan. 7, 2022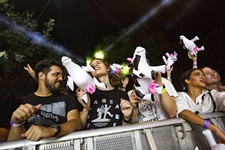 Federal program gave $130 million to over 100 local businesses
Rachel Rascoe, Oct. 22, 2021
More by Neha Aziz
A Q&A with stand-ups Akaash Singh and Paul Varghese
Sept. 24, 2021
Flat Track Coffee rolls out a new shop
May 20, 2016
KEYWORDS FOR THIS POST
South by Southwest, SXSW, SXSW 2014, SXSW Film 2014, Before I Disappear, narrative, review, Shawn Christensen, Fatima Ptacek, Emmy Rossum
MORE IN THE ARCHIVES