SXSW Film Review: 'Song From the Forest'
Is it true that you can't go home again?
By Amy Smith, 1:55PM, Sun. Mar. 9, 2014
American-born Louis Sarno is captivated by a strange, melodic song on the radio and chases it to a Central African rainforest, home of the Bayaka pygmies.
Song From the Forest picks up 25 years later, with Sarno a fully integrated member of the Bayaka community of hunters and gatherers and the father of 13-year-old Samedi. But all is not well in this gorgeous piece of paradise in the Congo River Basin. Poachers and loggers are steadily chipping away at an ecosystem that the Bayaka people have carefully managed for centuries. Disease, too, is taking a toll, and Sarno mourns the loss of friends and the demise of the traditional polyphonic chants that brought him to Central Africa. The film opens with Sarno preparing to take Samedi on a long-promised visit to New York City. The boy is awe-struck, but Sarno is put off by the challenges of life in a materialistic society.
Bayaka music, blended with 16th century Renaissance chants, weaves seamlessly through the movie as we follow Sarno and Samedi to the U.S. and home again. In a Q&A after Saturday's screening, first-time director Michael Obert reported on the escalating violence that is threatening Central Africa, where Sarno and the Bayaka people are fighting for survival.
---
Song From the Forest
Visions, North American Premiere
Monday, March 10, 9:30pm, Marchesa
Wednesday, March 12, 2pm, Alamo Village
Keep up with all our SXSW coverage at austinchronicle.com/sxsw.
READ MORE
More South by Southwest
David Chang announced as featured speaker
Brandon Watson, Sept. 30, 2014
'Honeymoon' and 'Thank You a Lot' picked up
Monica Riese, March 28, 2014
More SXSW
Plus Teen Vogue, The Daily Show, and Charlie Rose
Richard Whittaker, Aug. 30, 2017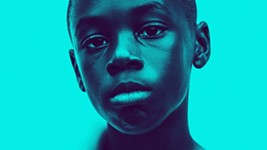 Oscar-winner Barry Jenkins part of first speaker list for 2018
Richard Whittaker, July 24, 2017
More by Amy Smith
Barbara Leaming's new biography makes the case that Jackie O suffered from PTSD
Nov. 28, 2014
Oct. 3, 2014
KEYWORDS FOR THIS POST
South by Southwest, SXSW, SXSW 2014, SXSW Film 2014, Michael Obert, Song From the Forest, Louis Sarno, Bayaka, Congo River, Africa, New York City
MORE IN THE ARCHIVES