It's About Time
'Predestination' on a rainy Austin night is a must
By Joe O'Connell, 2:14PM, Sun. Mar. 9, 2014
You wait outside the Paramount Theatre in a line that snakes around the corner toward an alley that smells of urine and broken dreams. Traffic lights – green, yellow, red – flicker in the rain that feels different from last time yet the same. You shiver with strangers and wonder about Predestination. The movie, not the theory. Or both?
Your last name is Spierig. You are Australian, but you were born in Germany. You are on stage with your twin brother. One of you is named Michael and the other Peter. No one is sure which is which. You are not sure. You have made this movie based on a short story "All You Zombies" by dead sci-fi legend Robert Heinlein. Your first feature film Undead was about zombies. You like zombies. In Predestination the only zombies are metaphors. In it time is warped. People are not who or what they seem. You are not what you seem. You (or is it your brother? a character in the movie?) tell the audience that it is never too late to be the person you were meant to be. Something like that.
You do not want to wait in the rain for another South by Southwest film, so you lean against the wall under the awning with her. Her name is not important now, but it may be later. Someone snaps your photograph and says it's all about the rain. Your name is Alex Steyermark and you are in charge of The 78 Project, which sent you across the U.S. using a 1930s Presto direct-to-disc recorder to make 78 rpm records. You zip back and forth between now and then. You slip into the line as it passes and enter the theatre. Don't tell anyone. You must see this film. You have no choice.
Next to you is an actor they call Ethan Hawke. He, or someone who looks a lot like him, worked on your vampire film Daytrippers. He is back, yet somehow different for Predestination. He portrays a time-jumping government agent who tries to stop criminals before they kill. Or he's a bartender. Tell him your story and you become him. Or he becomes you.
You are the reviewer. You have read the Heinlein story in preparation for sitting in this theatre eating popcorn and drinking a Coke with a lime dropped in it. Your coat sits in a soggy wad in the seat next to you. Lights flicker on the screen in front of you. The actress' name is Sarah Snook. It sounds made up. But she is real. Her character is real. Her characters are real. She is not what she seems, and that is good. This film is good. (Is that vague enough for you?) Time periods jumble together, but all look right and true. The story tumbles like a dryer full of yesterday's damp laundry, and you munch on popcorn. It all makes sense in the end, but you do not feel tricked. You are entertained.
Outside the line moves. You walk past the reviewer. Steyermark and the woman slip in behind you. You wipe a raindrop off your nose and enter the theatre. You are certain you have been here before.
---
For more on SXSW Film's time-travel slate, see "Time Is on My Side (And My Other Side)" here. Keep up with all our dispatches from SXSW at austinchronicle.com/sxsw.
Keep up with all our SXSW coverage at austinchronicle.com/sxsw.
READ MORE
More South by Southwest
David Chang announced as featured speaker
Brandon Watson, Sept. 30, 2014
'Honeymoon' and 'Thank You a Lot' picked up
Monica Riese, March 28, 2014
More SXSW
Plus Teen Vogue, The Daily Show, and Charlie Rose
Richard Whittaker, Aug. 30, 2017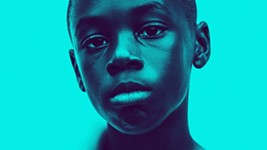 Oscar-winner Barry Jenkins part of first speaker list for 2018
Richard Whittaker, July 24, 2017
More by Joe O'Connell
Austin author on adapting his award-winning novel for AMC
April 7, 2017
Doc excavates the creative mind of the eccentric artist
March 14, 2017
KEYWORDS FOR THIS POST
South by Southwest, SXSW, SXSW 2014, SXSW Film 2014, Predestination, Paramount Theatre, Ethan Hawke, time travel, Janet Pierson, Alex Steyermark, The 78 Project, Michael Spierig, Peter Spierig
MORE IN THE ARCHIVES