Trailer Park: SXSW Film Day 1
Three picks (and clips) from today's screenings
By Monica Riese, 8:30AM, Fri. Mar. 7, 2014
Welcome to South by Southwest Film, where lines are a mess and your planning won't matter. Do you race across town for another show, or start lining up now for your evening pick? For the duration of the Fest, we're posting a few trailers for each day's films to help you make (or, you know, complicate) some of those tough scheduling decisions.
This is … the Trailer Park.
The Dog
Festival Favorites
Friday, March 7, 7pm, Alamo Slaughter
It's the bizarre, true story behind Dog Day Afternoon, and it's already been picked up by Drafthouse Films for a wide release.
Premature
Visions, World Premiere
Friday, March 7, 8:45pm, Alamo Ritz
"Groundhog Day meets American Pie" in this time-travel feature about a kid who's forced to relive a very pivotal day in his teenage life.
Our Vinyl Weighs a Ton (This Is Stones Throw Records)
24 Beats Per Second
Friday, March 7, 9:30pm, Alamo Village
So what if SXSW Music doesn't kick off until Tuesday? This doc about the L.A. label founded by Peanut Butter Wolf will get you in the groove early and often. Check out our interview with PBW himself in this week's Film preview issue.
---
Don't miss all our latest news from the Fest; follow along at austinchronicle.com/sxsw or on Twitter (@ACScreens).
Keep up with all our SXSW coverage at austinchronicle.com/sxsw.
READ MORE
More South by Southwest
David Chang announced as featured speaker
Brandon Watson, Sept. 30, 2014
'Honeymoon' and 'Thank You a Lot' picked up
Monica Riese, March 28, 2014
More SXSW
Plus Teen Vogue, The Daily Show, and Charlie Rose
Richard Whittaker, Aug. 30, 2017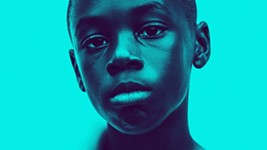 Oscar-winner Barry Jenkins part of first speaker list for 2018
Richard Whittaker, July 24, 2017
More by Monica Riese
Paramount and Stateside programming heats up
April 3, 2014
Announcements from the Austin Film Society
April 2, 2014
KEYWORDS FOR THIS POST
South by Southwest, SXSW, SXSW 2014, SXSW Film 2014, trailers, The Dog, Drafthouse Films, Premature, Our Vinyl Weighs a Ton, Stones Throw Records, Peanut Butter Wolf
MORE IN THE ARCHIVES