Scenes from the Film Awards
Arts+Labor checks in with Tishuan Scott after his big win
By Monica Riese, 4:30PM, Thu. Mar. 14, 2013
Austin's production house Arts+Labor continues its South by Southwest webisodes with this entry from the 2013 Film Awards.
Specifically, you'll see scenes from the night surrounding Tishuan Scott (The Retrieval) winning Special Jury Recognition for Acting.
Don't miss Chronicle Editor and SXSW Co-founder Louis Black making his introductory remarks at the beginning of the video.
---
The Retrieval screens one more time at SXSW: Saturday, March 16, 11am, Stateside.
Keep up with all our SXSW coverage at austinchronicle.com/sxsw.
READ MORE
More Arts+Labor
Arts+Labor goes to the SXSW poster show
Monica Riese, March 15, 2013
Arts+Labor's video from the world premiere
Monica Riese, March 15, 2013
More SXSW
Plus Teen Vogue, The Daily Show, and Charlie Rose
Richard Whittaker, Aug. 30, 2017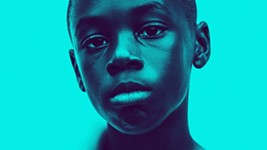 Oscar-winner Barry Jenkins part of first speaker list for 2018
Richard Whittaker, July 24, 2017
More by Monica Riese
Paramount and Stateside programming heats up
April 3, 2014
Announcements from the Austin Film Society
April 2, 2014
KEYWORDS FOR THIS POST
Arts+Labor, SXSW, The Retrieval, Chris Eska, Louis Black, Tishuan Scott, SXSW Film Awards
MORE IN THE ARCHIVES