Indie Film Hustlers Speak
Ramen and passion powers filmmakers like Bryan Poyser and Craig Zobel
By Joe O'Connell, 10:00AM, Tue. Mar. 12, 2013
"It's never a good idea to quit a job that has good benefits," says The Bounceback director Bryan Poyser. "The only reason to do it is if you can't not do it."
Poyser and fellow Austin indie filmmakers Kat Candler and Megan Gilbride plus New York's Craig Zobel (Compliance) fessed up during SXSW panel Sustaining a Career in Indie Film on the truths of forging a long-term indie career. Hint: It involves eating ramen noodles. A lot of ramen noodles. And occasionally taking a "real" job. Candler, whose short "Black Metal" is screening at SXSW (and screens next at the Sundance London showcase), worked at Austin's Bookpeople and at an artificial intelligence company where she got scolded for overuse of the copy machine to make script copies. Of late she teaches film at the University of Texas. "I see kids making 10 movies a year and think, 'Why am I not doing that?' You forget that's what you do when you're younger."
Poyser, whose other gigs have included working at a corporate job, as Director for Artists Services at the Austin Film Society, as a lecturer at local colleges (deep breath), and in between he makes movies. "My pattern has been to get a full-time job, preferably with benefits, then quit it," he said. The wait between directing films has left him feeling like "a racehorse at the gate, and the gate keeps not opening."
Zobel, who produced David Gordon Green's SXSW film Prince Avalanche, has directed five films and production managed another four, but admits "paying the rent is still a concern." He has filled that void by teaching adjunct at Columbia University, doing script rewrites and anything else that comes his way.
The panelists agreed that the saving grace of the indie film world is the community of like-minded pros. "There's very little to fight over because there is no money in independent film," said Gilbride, who has made her name as a producer of all three of Poyser's features, as well as Heather Courtney's decorated Where Soldiers Come From and other awarded films. Zobel agrees, saying "We end up getting each other jobs all the time."
Candler's three commandments to her students are: Be nice, be professional and "work your ass off."
---
"Black Metal" screens again as part of the Narrative Shorts Competition on Wednesday, March 13, 4:30pm, Vimeo.
Prince Avalanche screens again Thursday, March 14, 9pm, Rollins.
The Bounceback screens again Friday, March 15, 9:15pm, Stateside, and Saturday, March 16, 4pm, Rollins.
Keep up with all our SXSW coverage at austinchronicle.com/sxsw.
READ MORE
More SXSW
Plus Teen Vogue, The Daily Show, and Charlie Rose
Richard Whittaker, Aug. 30, 2017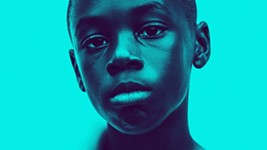 Oscar-winner Barry Jenkins part of first speaker list for 2018
Richard Whittaker, July 24, 2017
More by Joe O'Connell
Austin author on adapting his award-winning novel for AMC
April 7, 2017
Doc excavates the creative mind of the eccentric artist
March 14, 2017
KEYWORDS FOR THIS POST
SXSW, Bryan Poyser, The Bounceback, Megan Gilbride, Craig Zobel, Kat Candler, Black Metal, Prince Avalanche
MORE IN THE ARCHIVES