Free Mustache Rides
Lyft piggybacks on SXSW's success
By Brandon Watson, 1:43PM, Mon. Mar. 11, 2013
Getting around town during SXSW can be a bit mercenary. Badge holders fight bar hoppers for pedicabs, ride-sharing services fight the city, and cab drivers fight rising waves of nausea. It's a bit like the Road Warrior, if you substitute man bags for nunchucks. No wonder Lyft decided to offer something a bit more cuddly.
Though ride-sharing services have been popping up throughout the country, they are still in legal limbo in many municipalities. In October 2012, the City of Austin sent Heyride a cease-and-desist labeling the local startup a taxi franchise. After San Francisco based SideCar acquired Heyride, operations were again squashed by the city. Rinse and repeat.
Forced to remain idle, ride-sharing services are having to get creative during SXSW. SideCar has been offering its service gratis, Uber is offering pedicab service, and Lyft … well, they got a little silly. The company hired a coterie of strapping lads (some of them semipro rugby players – ahem) to wear giant fuzzy pink mustaches and piggyback conference goers around town.
According to Lyft, the free rides were a way to have some fun with promotion. Although the service is currently only available in San Francisco and Los Angeles, they are looking to go national. SXSW provides a captured audience for brand awareness. During the past weekend, Lyft's app temporary allowed users to book the mustache rides for free. There's no telling what the city will decide they were operating.
Keep up with all our SXSW coverage at austinchronicle.com/sxsw.
READ MORE
More SXSW
Plus Teen Vogue, The Daily Show, and Charlie Rose
Richard Whittaker, Aug. 30, 2017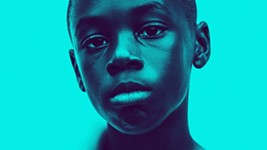 Oscar-winner Barry Jenkins part of first speaker list for 2018
Richard Whittaker, July 24, 2017
More by Brandon Watson
Escape via the long gay tradition of diva worship
Sept. 15, 2017
The personal is edible at Callie Speer's new hot spot
Sept. 8, 2017
KEYWORDS FOR THIS POST
SXSW, Ride-sharing, Heyride, SideCar, Start-ups
MORE IN THE ARCHIVES