All in the Family With Alan Berliner
Chronicle Editor Louis Black introduces 'First Cousin Once Removed'
By Monica Riese, 12:30PM, Fri. Mar. 8, 2013
Tonight at the Alamo Drafthouse Slaughter, check out the South by Southwest premiere of director Alan Berliner's First Cousin Once Removed. Berliner will be in attendance, and he and his film will be introduced by Chronicle Editor Louis Black.
First Cousin Once Removed tells the story of the final years of the life of Edwin Honig, the poet and professor (and a cousin of Berliner's, hence the title) who died of complications from Alzheimer's disease. In the SXSW program, the film has been described as "an unflinching essay on the fragility of being human, and a stark reminder of the profound role that memory plays in all of our lives." It took home the grand prize at the 2012 International Film Festival Amsterdam.
Berliner is an influential American filmmaker who works primarily in experimental documentary form. And, indeed, this is not his first take on family matters: Nobody's Business, which opened the 1997 season of PBS's P.O.V., starred he and his father, Oscar; The Family Album (1986) and Intimate Portrait (1991) also explored the American family. His last feature, Wide Awake, had its regional premiere at SXSW 2006.
If you can't make tonight's premiere (6:45pm, Alamo Slaughter), First Cousin Once Removed screens twice more during SXSW: Sunday, March 10, 2:15pm, Rollins; and Tuesday, March 12, 8:30pm, Alamo Ritz.
Keep up with all our SXSW coverage at austinchronicle.com/sxsw.
READ MORE
More SXSW
Plus Teen Vogue, The Daily Show, and Charlie Rose
Richard Whittaker, Aug. 30, 2017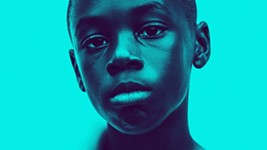 Oscar-winner Barry Jenkins part of first speaker list for 2018
Richard Whittaker, July 24, 2017
More by Monica Riese
Paramount and Stateside programming heats up
April 3, 2014
Announcements from the Austin Film Society
April 2, 2014
KEYWORDS FOR THIS POST
Alan Berliner, SXSW, South by Southwest, First Cousin Once Removed, Edwin Honig, Alzheimer's, Louis Black, Alamo Drafthouse
MORE IN THE ARCHIVES