Fader Fort RSVP Now Open for Business [updated]
Time to get serious about partying at SXSW
By Kimberley Jones, 11:00AM, Wed. Mar. 6, 2013
The annual Fader Fort – the four-day party/band showcase/Converse-powered bacchanalia – is now open closed for RSVPs.
Spanning March 13-16, Fader Fort is free and open to general public (provided you're 21 & up), but an RSVP is required. That RSVP gets you a wristband, which gets you in the door. SXSW badge holders will need to RSVP, as well, but they'll get priority entry to the Fort, where the likes of Delorean, Future, and Disclosure will be playing. (Those are just the teaser bands; the full lineup hasn't been announced yet.) Know this: The RSVP could very well fill before you finish reading this sentence, so move fast, friends. Update: No official word yet from Fader on the list being closed, but if you're like us, attempts to RSVP just lead to endless grinding (not the good kind).
Update #2: Overwhelming response crashed the system; Fader's taking the RSVP link down for a bit and will repost soon.
Update #3: RSVP for the Fader Fort is now closed.
But wait, there's more! SXSW Music wristband-sporters will enjoy "expedited entry" at a whole mess of other sponsored parties. For instance...
Converse x Thrasher Death Match
Filter Showdown at Cedar Street
Live Nation Day Parties – Friday and Saturday
StubHub Live (lineup includes the Black Angels, Michael Kiwanuka, and Fitz & the Tantrums)
Java Monster Cafe (not a party, per se, but hey, free breakfast!)
Keep up with all our SXSW coverage at austinchronicle.com/sxsw.
READ MORE
More SXSW
Plus Teen Vogue, The Daily Show, and Charlie Rose
Richard Whittaker, Aug. 30, 2017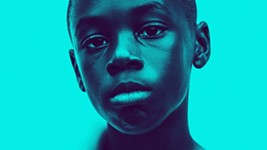 Oscar-winner Barry Jenkins part of first speaker list for 2018
Richard Whittaker, July 24, 2017
More Fader Fort
Wind, rain, and a weapon torments SXSW on Friday night
Kevin Curtin, March 19, 2016
A timeline of the rapper's notorious SXSW
Chase Hoffberger, March 18, 2014
More by Kimberley Jones
Cranky loner (and beloved character actor) faces mortality
Oct. 13, 2017
VOTE: Deadly roller derby, sad clones, and a Road Warrior duke it out
Sept. 28, 2017
KEYWORDS FOR THIS POST
SXSW, Fader Fort, Delorean, Future, Disclosure, SXSW day parties
MORE IN THE ARCHIVES