Screenburn Arcade Finds Its Audience
And it's roughly 14 years old
By James Renovitch, 10:23AM, Sun. Mar. 11, 2012
If you've brought yourself or your kids to the SXSW Screenburn Arcade in past years and been unimpressed, this is the year to try again. The free and public showcase of gaming at its eye-frying best is having its last day today from noon to 7pm. Here are a few reasons you need to go, and bring the kids.
Previous years at Screenburn have always awkwardly split the difference between gamer paradise and convention stodginess. This year, to their credit, they decided to go make a jaw-dropping spectacle and leave it at that. I watched many kids walk through the doors, stop, and look around with wide-eyes as they try to decide where to start their over-stimulation. There are tons of screens and tournaments to get in on including many big name releases like Street Fighter x Tekken, Firefall, and the locally developed Starhawk. Walk all the way to the big screen in the back and join the audience watching the pros earning their money schooling people in games like Starcraft II.
If the influx of flashing lights isn't enough to inspire you or your offspring both GameSalad and E-Line Media have booths that help get amateur programmers into the game-making biz. The E-Line Media booth was filled with grade-schoolers choosing not to play but create, and that's no mean feat.
All in all, SXSW has finally turned the arcade into what it should be, a daylong escape into a gaming Valhalla. Something that when you walk back out to the real world you take a deep breath and try to figure out how you can get that overwhelming feeling of joy again. Or maybe that was just me.
Keep up with all our SXSW coverage at austinchronicle.com/sxsw.
READ MORE
More Gaming
We ask local retailers for suggestions
James Renovitch, Dec. 10, 2015
Drew Davidson on analyzing and valuing video games
Andy Campbell, March 14, 2015
More SXSW
Plus Teen Vogue, The Daily Show, and Charlie Rose
Richard Whittaker, Aug. 30, 2017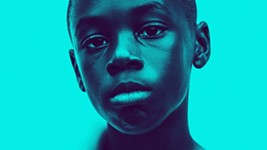 Oscar-winner Barry Jenkins part of first speaker list for 2018
Richard Whittaker, July 24, 2017
More by James Renovitch
The critics and people have spoken
Aug. 21, 2017
Soundtracking this weekend's sweat-fests
Aug. 18, 2017
KEYWORDS FOR THIS POST
Gaming, SXSW, screenburn arcade
MORE IN THE ARCHIVES