SXSW Interactive: Racing on the Ceiling
The unexpected science and spinoffs of Formula One
D = ½ x WS x H x AoA x F x ρ x V²
That, if you didn't already know, is the equation for downforce, and that was a key part of Geoff Moore's Friday presentation on the science behind Formula One racing.
For those of you new to Austin, there is currently a dedicated, purpose built F1 race track under construction just south of the airport. As chief sales and marketing officer for the Circuit of the Americas, Moore is part of the team overseeing the entire project.
The purpose built part is important. There have been US Grand Prix dates before: As Moore noted, in a 50 year history on US soil the race series had success at Watkins Glen, and then had "success mixed with less success" at Indianapolis. But they were not purpose built F1 tracks (Indianapolis, famously and controversially, effectively bolted an F1 track inside the Motor Speedway.) In fact, many of the classic European races have been on what he called "white elephant sites," converted from a civic use into a sporting facility. For example, Silverstone, home of the British Grand Prix, was a wartime Royal Air Force Bomber Command base. It's not just about the technical issues on the track: Moore explained, "The fan experience can only be so good if you're taking an army base and turning it into a sports attraction."
But Moore was not at SXSW Interactive to talk about location, location, location. "I was asked to speak here today because someone else canceled," he explained. In fact, he was there at the invitation of Interactive director Hugh Forrest. "I was describing the technology involved in the sport, and why I thought it would be a hit in Austin. He came up afterwards and said, 'You can save me a hotel room and a couple of plane tickets.'"
F1 is a highly technical sport: In fact, it's the closest thing to competitive space rocket races. Moore said, "If NASCAR is about speed and power and drivers, then F1 is about precision, engineering and difficulty."
That starts with the track, and this isn't the lazy banked O of NASCAR. F1 is defined by its complex, twisting tracks. Take turn one of the Austin track: Drivers coming up a 170 foot elevation, 188mph straightaway head right into a hairpin bend at 66mph. "You're going to be seeing the blue sky ahead of you," Moore said, "and then you're going to take an off-camber left turn."
Aside from providing a monster challenge for drivers, it's also a serious test of the engineering canniness of the teams that support them, and the manufacturers behind them. That's where that long equation comes in: F1 cars are designed to create so much downforce that they could actually drive upside down along a roof.
That means that F1 teams are actually a sporting front for tech innovation. Moore recently visited the McLaren Technology Centre in Surrey, England: That's the high-tech test facilities run by the McLaren team and, he said, "you expected James Bond to leap out of it." Mclaren started as a race car company that became racing team "and that turns into a conglomerate of technology companies that are associated with a sports team." During testing, its data center can manage real time tracking of 500 data points, and send that anywhere in the world, and their clients now include many rival teams.
F1 has now become like the Space Race, in that it has had so many off-track spinoffs. The carbon fiber tech pioneered for lightweight bodywork has ended up in everything from bicycles to wheel chairs, and the monocoque (the jargon term for the protective bathtub surrounding the driver) has also been adapted to create a protective medical pod suitable for transporting infants to hospital. Over at the Williams team, their engineers are leading the world on flywheel kinetic energy recovery systems (KERS). Moore explained, "You have a flywheel in a vacuum condition that starts spinning very fast when the brakes are applied." Brakes comes off, and the KERS can dump up to 70 Horsepower back into the system. Energy that would have been wasted as heat on the brake pads now becomes a way to cut fuel consumption. Porsche is already looking at creating a hybrid vehicle using this system and Moore argued that's the kind of innovation that will appeal to real gearheads. He said, "The challenge with a hybrid is to give people the performance they know and love, but to make it much more efficient."
One more spinoff: One of the most promising uses for KERS looks to be buses. From a power-to-mass ratio, they are surprisingly similar to an F1 car. Except no-one will be trying to drive the 1L Northbound on the ceiling any time soon.
Keep up with all our SXSW coverage at austinchronicle.com/sxsw.
READ MORE
More SXSW
Plus Teen Vogue, The Daily Show, and Charlie Rose
Richard Whittaker, Aug. 30, 2017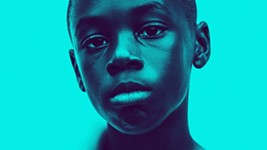 Oscar-winner Barry Jenkins part of first speaker list for 2018
Richard Whittaker, July 24, 2017
More Formula One
The man that brought F1 to Austin now behind Mexican Grand Prix
Richard Whittaker, Aug. 27, 2014
'Shame' and 'Prometheus' star to narrate F1 doc '1'
Richard Whittaker, Nov. 15, 2012
More by Richard Whittaker
Writer/director comes out to play
Oct. 20, 2017
District 7 trustee did Board work on city time, says city auditor
Oct. 20, 2017
KEYWORDS FOR THIS POST
Formula One, SXSW, Geoff Moore, Williams, McLaren, F1, Circuit of the Americas, KERS, Kinetic Energy Recovery System, Indianapolis Motor Speedway, SIlverstone
MORE IN THE ARCHIVES