Tales of Bill Paxton
James Cameron - nicer than you know, according to Texas Film Hall of Fame inductee Bill Paxton.
For those of you who think that Titanic director James Cameron should just keep his head under water without a breathing mask, think again. Cameron regular and Texas Film Hall of Fame inductee Bill Paxton had a fascinating story yesterday in a Q&A at ACC on Saturday. It seems that, in 1997, the father of Pan's Labyrinth director Guillermo del Toro was kidnapped. The criminals demanded $1 million dollars: the director, virtually bankrupt and making Mimic, didn't have a fraction of that. When Cameron found out about that, he put del Toro in his car, drove to the bank, and withdrew a million bucks of his own cash.
A note to readers: Bold and uncensored, The Austin Chronicle has been Austin's independent news source for almost 40 years, expressing the community's political and environmental concerns and supporting its active cultural scene. Now more than ever, we need your support to continue supplying Austin with independent, free press. If real news is important to you, please consider making a donation of $5, $10 or whatever you can afford, to help keep our journalism on stands.
READ MORE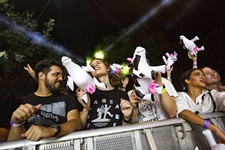 Federal program gave $130 million to over 100 local businesses
Rachel Rascoe, Oct. 22, 2021
Lucasfilm, Patreon, WWE all sending speakers for 2022
Richard Whittaker, Oct. 19, 2021
More by Richard Whittaker
British comedy short screening at Austin Film Festival
Oct. 25, 2021
New documentary gets inside the Hustler publisher's campaign
Oct. 25, 2021
KEYWORDS FOR THIS POST
Film, Bill Paxton, SXSW, South by Southwest, James Cameron
MORE IN THE ARCHIVES